Verify out these prototype machine firm pictures:
BeBox prototype & BeOS Preview Release – for sale!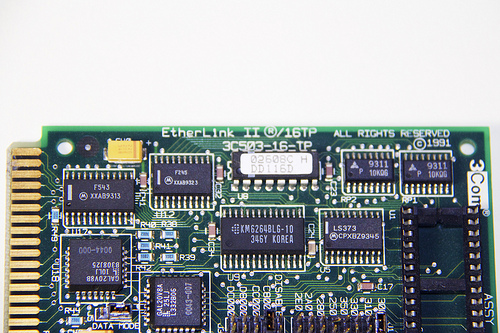 Image by jimabeles
Be Incorporated was an American laptop firm founded in 1990, greatest recognized for the Be Operating Method (BeOS) and BeBox individual pc. Be was founded by former Apple Personal computer executive Jean-Louis Gassée,
The BeOS ran on the BeBox, but was later ported to Apple Computer's Energy Macs.
This is 1 of the very first 100 BeBox computers, hand created by Be staff, and delivered to computer software developers in 1995. These early machines did not have front Bezels, and carried a sticker which said:
&quotAttention! This device has not been approved by the Federal Communications Commission. This device is not, and might not be presented for sale or lease, or sold till the approval of the FCC has been obtained.&quot
Be did get FCC approval in 1996. Only about 1800 total BeBox's have been ever sold.
Installed in the unit is the original Altatron motherboard. No memory and no CD Rom (each needed to get the machine to run).
The seller recommended, &quotPersonally, I would run four.five.2. five..3 will run on this machine, make positive you have the PPC version, not the Intel version. There are some quirks which shouldn't impact this machine (blinkenlights won't function on production machine, etc….). Also, make certain you choose your VGA card wisely. A Matrox Millenium card need to perform nicely with 5..three.&quot
&quotThis is distinct from the BeBox's that were truly sold to customers (developers) in 1996. There are many far more 'connections' on the rear which did not make it into the production units, and these units did not have front bezels, or the cool dual CPU lights (blinkenlights) that the production units had
&quotThis didn't come with a keyboard, mouse or display. Be did not sell these, instead they decided to use business standards… this can use standard Pc mice / keyboards.
&quotThese use old-school RAM SIMMS. Especially, 72 pin 60ns RAM SIIMMS.
PZL-106AR Kruk [SP-KFB]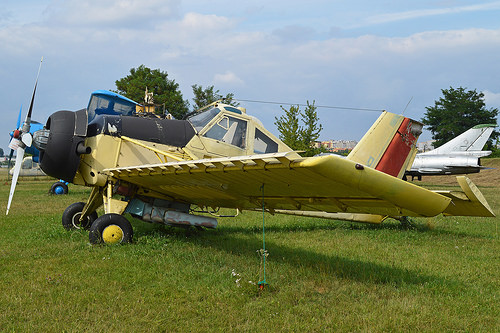 Image by Hawkeye UK (5million views – thank you!)
c/n 07810131.
On outdoors show at the Muzeum Lotnictwa Polskiego.
Krakow, Poland.
23-eight-2013.
The following information is taken from the museum website:-
&quotThe PZL-106 Kruk (raven) was made by Andrzej Frydrychewicz as a descendant of the PZL-101 Gawron (crow). It was a light, single engine, single seater agricultural aircraft of an all-metal building, with a strut reinforced low-wing configuration. The perform on the design had been carried out during the time the aviation sector was engaged in the production of the ill-fated jet agricultural aeroplane, the M-15. The prototype was flown in April 1973. After consecutive tests, the information series begun – 7 aircraft have been built. The last two machines from the series became the PZL-106A prototypes. Simultaneously, tests with spraying gear have been run. Line production began at the PZL functions in 1976. Among 1976 and 1983 distinct energy units were tested on the aircraft.
The PZL-106 A appeared as a follower of the T-tailed PZL-106 prototype. Series production began in 1976. In Poland, and specially in Egypt and Sudan, Ravens had been operated by the Agricultural Service Functions. In Africa they replaced less safe and significantly less effective PZL-101 Gawron aircraft which have been then withdrawn from service. The Raven was bought in considerable numbers by the former German Democratic Republic &quotAgrarflug&quot business which cooperated with PZL in improvement of the dispersal assembly.
The aircraft building is equivalent to the PZL-106 prototype (SP-PBK). In serially built aircraft, the metal side panels could be removed to make easier loading of dispersal assemblies for longer deployments. For that explanation, the hopper featuring a unique pump assembly was employed as an auxiliary fuel tank of 900 litres capacity. The PZL -106 was created in three versions: PZL-106A- powered with PZL three S engine and US 132000 propeller, PZL-106AR – powered with PZL-3SR engine and US 133000 propeller, and the PZL-106AS – powered with Asz-62IR (1000 HP/736 kW) engine and AW-2-30 propeller.
In 1981, a new B-variety wing with modified profile, shorter, streamlined braces, electric driven flaps and integral fuel tanks was made. Ravens featuring that kind of wings and PZL-3SR and ASz-62IR engines have been manufactured given that 1982 as the PZL-106BR and PZL-106 BS respectively. In 1989, a turboprop version for the Czech Walter M-601 (600 HP/442 kW) engine was developed and manufactured as the PZL-106BT-601 ( it was the initial Polish turbo prop aircraft). In 1981, a fire-fighting version featuring particular pump assembly and the hopper for the fire-fighting media was made. Yet another fascinating version was a college-trainer, exactly where the hopper accommodating in his upper component a cockpit for instructor and in the reduced component a hopper (of 300 litres capacity) for the liquid chemical compounds was mounted in the spot of serially-built hopper. Such answer permitted pilot education alternately with performing service operations with the very same aircraft.
In the following years, A. Frydrychewicz designed for a whole family of multipurpose aircraft, which includes even an armoured version. Production ceased in the late 1980s, to be renewed in 1995. In total, 147 aircraft in the A, AR, AS plus 126 in the BR, BS and 32 in the BT version had been manufactured. 102 Ravens have been in service in the former DDR, 72 operated in Poland, and the rest of aircraft were operated in South America. In Poland, the sort has currently been withdrawn from service.
The example on show is a serially built PZL-106 AR Kruk (factory number 07810131, 7th batch). It was manufactured in 1981 by the PZL Warszawa-Okęcie. The engine is 600 HP( 442 kW), PZL-3SR supplied by WSK Rzeszów and the US 133000 propeller supplied by PZL Okęcie. Until 1992 the aircraft (bearing SP-KFB markings) remained in service with WSK PZL Rzeszów as the test-bed for the PZL-3S and -SR varieties engines in-flight trials. It was donated to the Museum by WSK PZL-Rzeszow in 1992. raft displayed was handed more than to the Polish Aviation Museum by EADS PZL Warszawa Okęcie in October 2007.&quot