Check out these prototype parts made in china images:
Steven F. Udvar-Hazy Center: Lockheed SR-71 Blackbird port panorama (Bowlus 1-S-2100 Senior Albatross "Falcon" overhead)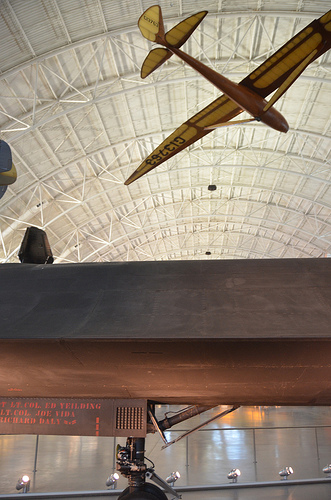 Image by Chris Devers
See more photos of this, and the Wikipedia article.
Details, quoting from Smithsonian National Air and Space Museum | Bowlus 1-S-2100 Senior Albatross "Falcon"
Hawley Bowlus developed the Senior Albatross series from a design he called the Bowlus Super Sailplane. In Germany, designers and pilots led the world in the building and flying of high-performance gliders, and Bowlus was strongly influenced by their work. He and German glider pioneer, Martin Schempp, taught courses in aircraft design and construction at the Curtiss-Wright Technical Institute in Glendale, California. The two instructors led a group of students that built the Super Sailplane in 1932. The Super' served as a prototype for the Senior Albatross.
In May 1934, Warren E. Eaton acquired the Senior Albatross now preserved at NASM from Hawley Bowlus. Eaton joined the U. S. Army Air Service and flew SPAD XIII fighters (see NASM collection) in the 103rd Aero Squadron, 3rd Pursuit Group, at Issoudon, France, from August 27, 1918, to the Armistice. He was credited with downing one enemy aircraft in aerial combat. After the war, Eaton founded the Soaring Society of America and became that organization's first president.
Gift of Mrs. Genevieve J. Eaton.
Manufacturer:
Bowlus-Dupont Sailplane Company
Date:
1933
Country of Origin:
United States of America
Dimensions:
Wingspan: 18.8 m (61 ft 9 in)
Length: 7.2 m (23 ft 7 in)
Height: 1.6 m (5 ft 4 in)
Weight: Empty, 153 kg (340 lb) Gross, 236 kg (520 lb)
Materials:
Originally skinned with mahogany and covered with lightweight cotton "glider cloth," then covered with a shellac-based varnish. In 2000, restorers removed original fabric and shellac coating, recovered with Grade A cotton fabric followed by several coats of nitrate dope, then lemon shellac, finishing with several coats of Johnson Wax.
Physical Description:
Monoplane glider with strut-braced, gull-type wing mounted high on monocoque fuselage; wooden construction with steel and aluminum fittings and controls; fuselage and wing leading edge covered with mahogany plywood. Fuselage skin applied over laminated Spruce bulkheads. Landing gear consists of single-wheel and …. [size?] tire mounted beneath forward fuselage, spring-steel tail skid beneath rudder.
Cockpit covered with hood made from laminated Spruce bulkheads and covered with Mahogany plywood. Circular openings cut into hood on either side of pilot's head. Instrumentation: altimeter, airspeed, variometer plus a bank-and-turn indicator powered by low-speed venturi tube installed on retractable mount beneath right wingroot.
Areas aft of wing spar and all control surfaces covered with glider cloth. Cloth is doped directly onto ribs and plywood skin without stitching for smooth finish. Constant-chord wing from fuselage to mid-span, tapered profile from mid-span to wingtip; constant-chord,
split-trailing edge flaps and high-aspect ratio ailerons. A Gö 549 airfoil is used at the wing root, becoming symmetrical at the tip.
All-flying elevator mounted on duraluminum torque-tube, rudder hinged to box-beam post, both surfaces built up from Spruce and covered with glider cloth.
Long Description:
Long before he designed and built the Bowlus-DuPont "Falcon," William Hawley Bowlus had contributed to aviation history. In 1926, T. Claude Ryan hired him as factory manager at the Ryan Airlines, Inc., plant at San Diego, California. Late in February 1927, Bowlus and twenty Ryan workmen, supervised by chief engineer Donald A. Hall and Charles A. Lindbergh, built a long-range monoplane based on the Ryan M-2. Lindbergh christened the modified M-2 the "Spirit of St. Louis." It is said that Bowlus suggested several design features that Lindbergh approved and incorporated in the finished airplane. Bowlus renewed his friendship with Lindbergh late in 1929. He taught the ocean flyer and his wife, Anne Morrow, to fly sailplanes and in January 1930, both Charles and Anne completed their first solo glider flights.
Hawley Bowlus developed the Senior Albatross series from a design that he called the Bowlus Super Sailplane. In Germany, designers and pilots led the world in building and flying high-performance gliders and Bowlus was strongly influenced by their work. He and German glider pioneer, Martin Schempp, taught courses in aircraft design and construction at the Curtiss-Wright Technical Institute in Glendale, California. The two instructors led a group of students who built the Super Sailplane in 1932. The Super Sailplane served as a prototype for the Senior Albatross. The wing of the Super was nearly a copy of the German "Wein" sailplane designed and flown with great success in 1930 and 1931 by Robert Kronfeld. Both gliders employed the same Goettingen 549 wing airfoil and even the tips of the control surfaces curved to almost identical contours. When Bowlus built the Senior Albatross series, the cockpit enclosure closely resembled another record-setting and influential German sailplane, the "Fafnir," designed by Alexander Lippisch specifically for pilot Gunther Groenhoff.
Richard C. du Pont was also an important character in the history of the Senior Albatross. By the time he finished high school, this heir to the Delaware-based chemical empire could fly gliders with some skill. During his first year at the University of Virginia, he founded a campus soaring club. His passion for motorless flight drew him farther away from traditional academics and in 1932, he transferred to the Curtiss-Wright Technical Institute. Du Pont was probably among the students who built the Super Albatross.
In 1933, du Pont teamed with Hawley Bowlus and the two men set up shop in San Fernando, California, to build gliders. Bowlus furnished the design expertise and performed much of the construction. Du Pont supplied enthusiasm, labor, and financing. The Bowlus-DuPont Sailplane Company became an official entity in 1934 not in California, but in Delaware. The firm folded in September 1936 but during its short corporate life, the small factory built four examples of the Senior Albatross but no two were constructed exactly alike. All four sailplanes did have 'gull' wings (each wing was bent down slightly at about mid-span) and this feature differentiates these airplanes from the prototype Super Sailplane. Bowlus fitted two with wing flaps, rather than spoilers, for better speed and altitude control during landing. Mahogany plywood skinned one and spruce plywood covered the other three aircraft. Bowlus sold each of these handcrafted airplanes for ,500.
In 1935, Hawley Bowlus began work on a two-seat Senior Albatross built from aluminum but other distractions delayed completion until 1940. In 1939, Ernest Langley and Jim Gough built another Senior Albatross at the Bowlus ranch in California.
Performance calculations revealed a best glide ratio of 23:1 when flying at 64.4 kph (40 mph). If it became necessary, the pilot of a Senior Albatross could push his mount well over 161 kph (100 mph) as long as he never exceeded a speed of 241.5 kph (150 mph). With an accomplished pilot at the controls, the Senior Albatross could fly better than any American airplane without a motor and they were very pleasing to look at too. A quotation from the July 1934 issue of "Aviation," a popular periodical, sums up one writer's impressions of the Bowlus-Du Pont Senior Albatross:
"Few flying machines have ever exhibited such an extraordinary combination of workmanship, finish, and aerodynamic refinement, so that it seems quite safe to say that the new ships represent the ultimate in soaring design practice in the United States, if not the world."
The pilots who flew the Senior Albatross nearly dominated American competitive soaring. In 1933, Richard du Pont flew the first Senior Albatross at the fourth U. S. National Soaring Championships held at Elmira, New York. On September 21, du Pont set the American sailplane distance record by flying 196 km (121.6 miles). On June 25, 1934, he flew to within 3.2 km (2 miles) of New York City and established a new world distance record of 254 km (158 miles). On June 30, 1934, du Pont set the U. S. altitude record for sailplanes by climbing to 1,892 m (6,223 ft). The following year, Lewin Barringer soared his Senior Albatross parallel to the ridges of the Allegheny Mountains for 250.3 km (155.5 miles).
In May 1934, Warren E. Eaton acquired from Hawley Bowlus the Senior Albatross that is now preserved at NASM. Eaton was already a veteran aviator. He had joined the U. S. Army Air Service and flew SPAD XIII fighters (see NASM collection) in the 103rd Aero Squadron, 3rd Pursuit Group, at Issoudon, France, from August 27, 1918, until Armistice Day, November 11. He was credited with downing one enemy aircraft in aerial combat. After the war, Eaton founded the Soaring Society of America and became that organization's first president.
Eaton had commissioned Bowlus to build this glider after he saw Richard C. du Pont fly the second Senior Albatross at the U. S. Nationals the year before. Eaton's ordered flaps for his aircraft and it was the only Senior Albatross skinned with mahogany plywood. He christened it "Falcon" and it bore the federal aircraft registration number G13763. Several gold decals edged in black also appeared at various locations on the fuselage. "Warren E. Eaton" and "Falcon" appeared on both sides of the nose. A stylized albatross and the company motto "On the Wings of an Albatross" were applied to the vertical fin above the words "Bowlus-Du Pont Sailplane Company."
Eaton first flew the glider at San Diego. In June, he brought it to the national contest at Harris Hill, New York. At Big Meadows, Virginia, Eaton set the American soaring altitude record, 2,765 m (9,094 ft), during September 1934. Three months later, Eaton died in Florida flying a Franklin p glider.
In 1935, Warren Eaton's widow, Genevieve, donated the "Falcon" to the Smithsonian Institution. It arrived in Washington on May 28 and a few days later, museum personnel suspended the glider from the ceiling of the West Hall of the Arts and Industries Building where it remained on display for many years.
• • • • •
See more photos of this, and the Wikipedia article.
Details, quoting from Smithsonian National Air and Space Museum | Lockheed SR-71 Blackbird:
No reconnaissance aircraft in history has operated globally in more hostile airspace or with such complete impunity than the SR-71, the world's fastest jet-propelled aircraft. The Blackbird's performance and operational achievements placed it at the pinnacle of aviation technology developments during the Cold War.
This Blackbird accrued about 2,800 hours of flight time during 24 years of active service with the U.S. Air Force. On its last flight, March 6, 1990, Lt. Col. Ed Yielding and Lt. Col. Joseph Vida set a speed record by flying from Los Angeles to Washington, D.C., in 1 hour, 4 minutes, and 20 seconds, averaging 3,418 kilometers (2,124 miles) per hour. At the flight's conclusion, they landed at Washington-Dulles International Airport and turned the airplane over to the Smithsonian.
Transferred from the United States Air Force.
Manufacturer:
Lockheed Aircraft Corporation
Designer:
Clarence L. "Kelly" Johnson
Date:
1964
Country of Origin:
United States of America
Dimensions:
Overall: 18ft 5 15/16in. x 55ft 7in. x 107ft 5in., 169998.5lb. (5.638m x 16.942m x 32.741m, 77110.8kg)
Other: 18ft 5 15/16in. x 107ft 5in. x 55ft 7in. (5.638m x 32.741m x 16.942m)
Materials:
Titanium
Physical Description:
Twin-engine, two-seat, supersonic strategic reconnaissance aircraft; airframe constructed largley of titanium and its alloys; vertical tail fins are constructed of a composite (laminated plastic-type material) to reduce radar cross-section; Pratt and Whitney J58 (JT11D-20B) turbojet engines feature large inlet shock cones.
Photo of unidentified Lancaster Bomber No.35 Sqdn and AirCrew, England, World War 2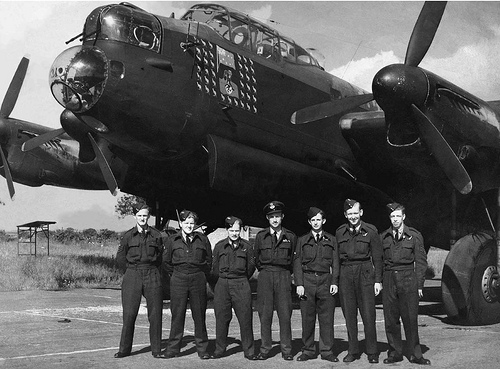 Image by manintheorangeshirt
Do You know the identity of this Lancaster or the flight engineer from this crew? Was the photo taken in 1945? Can you help? The photo belonged to my Uncle Vic and after he died in 2009 I have been trying to find out more about who is in the picture with him and what the identity of the aircraft in the background is. I have a copy of this photo which originally belonged to my Uncle Vic, I thought he was a Navigator in 35 Squadron Pathfinders during WW2 but it turns out he was a Wireless Operator (not the Navigator) in this aircrew with F/Sgt WN Mercer shown here. I don't know the identity of the aircraft and i don't know what year it was taken or where, perhaps its 35 Squadron 1945. Here is a summary of what I have discovered so far.
Aircrew from Left to right:
1. Sgt FJ Soan (Mid-upper Gnr)
2. Sgt DV Durie (Rear Gnr)
3. F/Sgt EJL Hall(Navigator)
4. F/Sgt WN Mercer (Pilot – with officer rank, probably Pilot Officer)
5. Sgt HV Gash (Wireless Op) (03/04/23-10/03/2009) – My Uncle
6. F/Sgt Brenner (Bomb Aimer)
7. W.J. (John) Cunningham (Flight Engineer) – Can anyone confirm his rank?
Thank you to Bill Norman for researching and identifying the crew in this photograph. Bill wrote to me and said "Your uncle, Sgt HV Gash was the Wireless Operator (not the Navigator) in the crew of F/Sgt WN Mercer. The crew joined No.640 Sqdn (Flying Halifaxes), Leconfield, on 17 Jan. 1945. They were later re-posted (on 17 March 1945) to No. 35 Sqdn (Pathfinders). This photograph was very probably taken when they were on No.35 Sqdn because the aircraft is a Lancaster – the aircraft used by No.35."
Bill added "I have a crew photograph of this crew, taken when they joined 640, which identifies each member. However, the Flight Engineers differ – hence the 'unknown'. Mercer was clearly promoted after leaving 640. The crew made six trips with No.640 – you have them listed in the torn Flight Log Book.(see log books photos) You might been interested in a copy of my book HALIFAX SQUADRON (the wartime bombing operations of No.640 Sqdn). Your uncle and his crew are mentioned – however your uncle is shown as HV Cash. The book costs £27.50 (Post free). Details can be found at www.billnorman.co.uk
I think the photo above may well have been a photo taken at the end of the war, hence the smiling in the picture and I also suspect that the aircraft may either have been a convenient aircraft near the main buildings to be photographed with or it may have had something to do with the head of Pathfinders, Don Bennet, who was an Australian. However, I cant be sure. can anyone help shed some light on thsi picture?
Flight Sergeant (Flt Sgt, F/Sgt, F/S, FSgt or FS) is a senior non-commissioned rank in the British Royal Air Force and several other air forces which have adopted all or part of the RAF rank structure. It is equivalent to a Staff Sergeant in the British Army and has a NATO rank code of OR-7. Apart from the RAF, the rank of Flight Sergeant is also used by many Commonwealth air forces, including the Royal Australian Air Force, the Royal New Zealand Air Force, the Ghana Air Force, the Bangladesh Air Force, the Sri Lanka Air Force, the South African Air Force and the Air Force of Zimbabwe.
The Lancaster Aircraft in the background is identity unknown. Perhaps at a guess it is a photo from 35 squadron March 1945 onwards, either Avro Lancaster I or Avro Lancaster III. It may have 35 Squadron Code of "TL" – The Picture may have been taken at Graveley Airfield as part of No. 8 (PFF) Group – pff stands for path finder force.
The Nose art shows Kangaroos instead of bombs so perhaps the Lancaster was an RAAF plane or had an Australian Pilot.
In the European Theatre of World War II, RAAF personnel were especially notable in RAF Bomber Command: they represented two percent of all RAAF personnel during the war, but accounted for 23% of the total number killed in action. This statistic is further illustrated by the fact that for example No. 460 Squadron RAAF, mostly flying Avro Lancasters, had an official establishment of about 200 aircrew and yet had 1,018 combat deaths. The squadron was therefore effectively wiped out five times over.
here is some information provided by T: "Not only are the mission symbols Kangaroos, there is an Australian flag as well!
Note, Pathfinders flew a "double tour" 45 missions, not the usual 30.
Also of note is the lack of exhaust shrouds, which were used for night operations. Perhaps this is taken post war?
This is late model Lancaster, it has the deeper bomb aimer perspex nose, and the later paddle blade propellers, and is painted black inside, older planes were grey green inside the nose.
There were many many changes introduced during the Lancaster use in WW2, but the Mark numbers were not changed.
You need a serial number to tell a BI from a BIII, the BI was fitted with British made Rolls Royce Merlins, the BIII was fitted with USA built Packard Merlins (as used in the Mustang and Spitfire XVI)
The engine parts were not interchangeable hence the different mark numbers, but look the same with the cowlings on.
There were also Canadian built MkX used as well.
As a relative I believe you could contact the RAF for more information, or try the RAF musuem at hendon, they are very helpful and informative." – T
What I do know about: Sgt HV Gash (Wireless Op) / Herbert Victor Gash
He was in 640 Squadron flying Halifaxes and later 35 Squadron flying Lancasters.
He flew in Halifaxes, Lancasters and Mosquitos
He was a wireless operator and he also said he was a Navigator.
He was based at RAF Leconfield and RAF Graveley
He was in the Pathfinders under Donald Bennett.
I know from torn pages from his logbook that he flew Halifax III's in March 1945, with 640 squadron based at Leconfield. According to Bill Norman This crew joined No.640 Sqdn, Leconfield, on 17 Jan. 1945. They were later re-posted (on 17 March 1945) to No. 35 Sqdn (Pathfinders).
HV GASH was a Flight Sergeant for most of the War and towards the end he became a Warrant Officer. The Photo shows three stripes on his arm so he is clearly a Flight Sergeant in the picture.
Just before my Uncle Vic died, I managed to record a brief few words from him over the phone. He refused to talk openly about his experiences during the second world war and after the war had ended he refused to fly and never flew again.
(I was) "….based near Beverley, about 6 miles North of Hull (England).(I was) Based at Leconfield, 640 squadron, used to booze (go drinking) at the Green Dragon in Beverley." (Leconfield is a small village in the East Riding of Yorkshire on the A614,approximately 2 miles North of Beverley. The East Riding of Yorkshire is a local government district in the United Kingdom. … Location within the British Isles. …Leconfield is home to RAF Leconfield, now used as a base for Sea King helicopters of the the 202 Squadron. The Green Dragon pub can be found at 51 Saturday Market, Beverley, East Yorkshire, HU17 8AA United Kingdom 01482 889801)
"…..we did one particular daylight raid on Cologne, we were told that there was mist on the rhine and we were told we would see the twin towers of the cathedral sticking through the mist on the rhine. that was our aiming point 850 of us, we all aimed at it but nobody hit it."
"…..For the last year of the war we were regular putting up between 600 and 900 planes for every raid. Usually 600 Lancs and 300 Halifaxes"
"…..There was a danger of collision at night…… Well, we did a few Daylights otherwise at night it was a bit dodgy, especially crossing the North Sea. We put our navigation lights on above us but we were supposed to put our navigation lights out…..But crossing the North Sea at 500ft, about 800 of you…. was bloody dodgy….. and if you jump out you're wasting your time, it's no good jumping into the sea."
"….the poor women and kids get the battering don't they? I don't know how many were actually slaughtered. We shouldn't have gone to Dresden, that was a terrible trip, that night Lancasters went to Dresden twice. and we went to a target 60 miles south of that called Chemnitz. All halifaxes, 500 of us went to chemnitz……Dresden was an all Lancaster raid and of course we didn't realize what the Lancasters were doing to Dresden. We were bombing Chemnitz through 16,000 solid foot of cloud, we ended up dropping markers and we bombed on radar. however, i've talked enough about that now……" – Herbert Victor Gash 2009
I did have some other conversations with him but i didn't record them so i can only repeat what I can remember. He flew on Lancasters as part of Operation Manna dropping food to The Dutch in 1945. He said the aircraft had to fly at 400feet or lower so as not to damage the food sacks as they were dropped without parachute. He said he remembered one trip when the plane was flying so low to the ground that as he looked out of the navigation window he remembered seeing the German Gunners for the first time and how young they looked. He said he could even see clearly what brand of cigarette the German Gunners were smoking in their gun turrets as the plane passed overhead.
info from the net: The Dutch first heard of the plans for Operation Manna on April 24th when it was announced by the British Broadcasting Corporation. Then on April 29th the people of Holland heard the BBC announce, "Bombers of the Royal Air Force have just taken off from their bases in England to drop food supplies to the Dutch population in enemy-occupied territory."
A seventeen year old student at the time, Arie de Jong wrote, "There are no words to describe the emotions experienced on that Sunday afternoon. More than 300 four-engined Lancasters, flying exceptionally low, suddenly filled the western horizon." Arie's diary recorded, "One could see the gunners waving in their turrets. A marvellous sight. One Lancaster roared over the town at 70 feet. I saw the aircraft tacking between church steeples and drop its bags in the South. Everywhere we looked, bombers could be seen. No one remained inside and everybody dared to wave cloths and flags. What a feast! Everyone is excited with joy. The war must be over soon now."
It was a memorable day for the Bomber Command aircrew as well. Although there had been discussions with the Germans, an agreement to allow the Lancasters to drop the food supplies had not been finalized and on the first day of Operation Manna the Germans were manning their anti-aircraft guns as the bombers flew over, so low that they could have been easily shot down. But the Germans held their fire.
The approaches to the drop zones were made at very low altitude in order not to damage the food any more than necessary as it was dropped in gunny sacks without parachutes.
A total of 3100 flights were made by Bomber Command, and an additional 2200 by the American Air Force which joined the operation on May 1st. Operation Manna ended with Germany's surrender on May 8th. Although over 11 000 tons of food were dropped in the ten days of the operation, some 20,000 people died of starvation.
Additional Information i've found online:
No.35 Squadron went through two incarnations during the Second World War. At the start of the war it was equipped with the Fairey Battle, but unlike most Battle units was not sent to France, instead acting as a training unit, equipped with a mix of Battles, Ansons and Blenheims. The squadron was combined with No. 207 Squadron, first to form No.1 Group Pool on 1 October 1939 and then to form No. 17 Operational Training Unit on 8 April 1940.
The second incarnation began on 5 November 1940. The new No. 35 was the first squadron to use the Handley Page Halifax. A detachment from the squadron had been training on the prototype Halifaxes, and began to work with the first production aircraft in November 1940. The squadron carried out the first Halifax raid on 10 March 1941. In August 1942 the squadron was transferred to the new Pathfinder Force (No. 8 Group), remaining with that unit until the end of the war. In March 1944 the squadron converted to the Avro Lancaster.
Location
25 August-7 December 1939: Cranfield
7 December 1939-1 February 1940: Bassingbourn
1 February-8 April 1940: Upwood
5-20 November 1940: Boscombe Downe
20 November-5 December 1940: Leeming
5 December 1940-15 August 1942: Linton-on-Ouse
15 August 1942-18 September 1946: Graveley, to join No. 8 (PFF) Group pff stands for path finder force
Aircraft
April 1938-February 1940: Fairey Battle
February 1939-April 1940: Avro Anso
November 1939-April 1940: Blenheim Mk IV
November 1940-February 1942: Handley Page Halifax B I
January 1942-March 1944: Handley Page Halifax B II
December 1943-March 1944: Handley Page Halifax B III
March 1944-October 1949: Avro Lancaster I and Avro Lancaster III
35 Squadron Motto: "We act with one accord"
Squadron Codes: TL
Group and Duty
On 26 September 1939: Pool squadron with No. 6 Group
8 April 1940: Merges with No.207 Squadron to become No.17 OTU
From November 1940-August 1942: Bomber squadron with No. 4 Group
From August 1942: Pathfinder squadron with No. 8 (PFF) Group
No. 640 Squadron RAF was a bomber squadron of the Royal Air Force during the Second World War. The Royal Air Force (RAF) is the air force branch of the British Armed Forces.
It was first formed at Leconfield, Yorkshire in January 1944, from C Flight of No. 158 Squadron RAF. Leconfield is a small village in the East Riding of Yorkshire on the A614, approximately 2 miles North of Beverley. …
It was equipped with Halifax III bombers, and operated as part of No. 4 Group RAF in Bomber Command. It re-equipped with Halifax VI bombers in March 1945, and was disbanded at Leconfield in May.
RAF Bomber Command was the organisation that controlled the RAF's bomber forces. It was formed on 14 July 1936 from the bomber element of the Air Defence of Great Britain and absorbed into the new Strike Command in 1968.
The Royal Air Force (often abbreviated to RAF) is the air force branch of the British Armed Forces. … The Air Defence of Great Britain (ADGB) refers to two different components of the RAF depending on the time period in question. … The Royal Air Forces Strike Command is the military organization which controls the majority of the United Kingdoms combat aircraft. …
Bomber Command first found fame during World War II, when aircrews under the command of Air Chief Marshal Sir Arthur Harris, destroyed a significant proportion of Nazi Germany's industries and many German cities. Combatants Allies: Poland, British Commonwealth, France/Free France, Soviet Union, United States, China, and others Axis Powers: Germany, Italy, Japan, and others Casualties Military dead: 17 million Civilian dead: 33 million Total dead: 50 million Military dead: 8 million Civilian dead: 4 million Total dead: 12 million World War II… An Air Chief Marshals sleeve/shoulder insignia Air Chief Marshal is the most senior rank active in the Royal Air Force (RAF) today, after the inactivation of Marshal of the Royal Air Force as a substantive rank in peacetime during defence cuts of the 1990s. … Sir is a British honorary title representing knighthood or baronetcy. … Sir Arthur Travers Harris, 1st Baronet (April 13, 1892 – April 5, 1984), commonly known as Bomber Harris, and often, in the RAF, as Butcher Harris, was commander of RAF Bomber Command and later a Marshal of the Royal Air Force during the latter half of World War II.
Many of Bomber Command's personnel and squadrons during the war were neither British nor part of the RAF; a large proportion came from Commonwealth countries, or occupied Europe.
No. 640 Squadron was formed from C Flight of No. 158 Squadron in January 1944 as part of No.4 Group. It took part in the main bombing offensive against Germany as part of Bomber Command's main bomber force. The squadron was one of six in No.4 Group to operate the Halifax B.Mk VI before the end of the war. It was disbanded on 7 May 1945.
Aircraft
January 1944 to March 1945: Handley Page Halifax B.Mk III
March 1945 to May 1945: Handley Page Halifax B.Mk VI
Location
7 January 1944-7 May 1945: Leconfield
Squadron Codes: C8
Duty
1944-1945: Bomber Command main bomber force
The Pathfinder Force officially came into being on 15th August 1942, after some weeks spent in behind the scenes manoeuvring. It was set up in direct response to the very poor accuracy being achieved on bombing raids, which was threatening the entire bomber offensive. Harris, Air Officer Commanding-in-Chief of Bomber Command, had been strongly opposed to the setting up of a separate elite target-marking force, believing this would leave to rivalry and jealousy within the non-Pathfinder squadrons (hereafter referred to as Main Force) who would inevitably resent having their best crews taken away from them.
Harris wrote in his book, Bomber Offensive,
"I was over-ruled by the Air Ministry. In other circumstances I should not have accepted the position, but we were now faced with the fact that Gee had failed as a bombing aid and that the new radar aids, Oboe and H2S … were not now to be forthcoming until the end of the year. For the time being it was essential to improve our methods of finding the target visually and marking it, and this seemed to require the whole time activities of a specialised force."
Though he had argued strongly against the need for such a specialised force, Harris was shrewd enough to know that once he had conceded the point to his superiors, he would be able to set up the new force as he chose. It was he who insisted on its name, and secured authority for the Pathfinder eagle, the small golden badge which was to mark the crews out from Main Force.
It was Harris, above all, who secured the appointment of Don Bennett as the force's new commander. At 32 years of age, Bennett was considerably younger than his fellow Group Commanders. He had spent part of his career outside the RAF in civil aviation, flying experience which was then very much looked down upon by many career officers as being inferior and second-rate. That Bennett was an Australian and so young, yet had won such a plum job, one which was central to the whole bombing offensive, must have added insult to injury.
Harris, however, never had the slightest doubt about Bennett's capabilities. He did not even consider any other candidate, having the highest opinion of Bennett; he was later to call him "the most efficient airman I have ever met".
Initial Make-up of the Pathfinder Force
After some political manoeuvring, the initial squadrons were donated by the Group Commanders – those who had also opposed the setting up of the PFF, and did not want to lose their best and most experienced crews to this new and untested arrangement.
Some of the most promising new intakes at the OTUs were also to be allocated to the PFF.
The PFF initially consisted of 5 squadrons:
7 Squadron, from 3 Group, flying Stirlings;
35 Squadron, from 4 Group, flying Halifaxes;
83 Squadron, from 5 Group, the only Squadron flying Lancasters;
109 Squadron, from 2 Group, flying Wellingtons, but shortly to be re-equiped with Mosquitoes;
156, from 1 Grroup, flying Wellingtons.
The PFF would eventually be entirely equipped with Lancasters and Mosquitoes, the most suitable aircraft for its task.
The Pathfinders' motto was "We Guide to Strike"
The Pathfinder Force Becomes a Separate Group
The PFF squadrons were located at adjacent airfields within No 3 Group – Oakington, Graveley, Wyton and Warboys, with the headquarters then being at Wyton. Initially the force was under the direct control of Harris, and relied on 3 Group only for administration, pay and rations.
On 8th January 1943, however, the PFF expanded into a completely new Group, No 8 (PFF). This was in recognition of the huge improvements achieved by Bennet. Bennett himself, hitherto only a Group Captain, was promoted to Air Commodore, a move which gave him equality of function, though not of rank, with the other group commanders.
In April 1943 the PFF gained two more heavy bomber squadrons, 405 (RCAF) Squadron and 97 Squadron, to be based respectively at Gransden Lodge and Bourn.
It also acquired the Mosquitoes of 1409 Meteorological Flight, which allowed Bennett to study weather conditions more closely, an absolutely key ingredient in the success of bombing raids and the safety of the crews returning home afterwards.
Continuing its expansion, in June 1943 the Mosquito Squadrons 105 and 109 were added to the PFF, both to be based at Marham. Later in that same month the PFF HQ was moved from Wyton to Castle Hill House in Huntingdon, where it remained for the rest of the war.
Pathfinders were the leaders of Main Force, the Mosquitos and Lancasters flying at the head of the massive bombing stream which contained perhaps 400-700 aircraft when it swarmed out from Britain on a raid.
Such raids took place at night because it was suicidal to fly them in the day. In the darkness the huge force swamped the defences; safety lay in numbers and the bomber stream was meant to keep together as compactly as possible, but the extreme difficulties of navigation with comparatively primitive aids meant that mistakes of judgement were all too easily made.
The Pathfinders were the guides to Main Force, not only as route-markers on the long hazardous trip to the target but also over the target itself, where, with their better navigational techniques and technology, they had the task of pinpointing the areas where the bombs should be released.
The Pathfinders were critical to the success of the bombing raids, which were planned to the most minutely exact timetable. They had to reach the target despite all the difficulties of navigation – changing weather conditions, variable winds, German nightfighters and flak defences – within a tolerance of only one minute. They had to drop their target indicators on exactly the right spot even though the whole scene might be enveloped in dense cloud and high winds might shift the flares miles off target. When they failed, which they not infrequently did, the resulting confusion had a disastrous knock-on effect on Main Force.
Despite the critical nature of their role, Pathfinder crews were not a hand-picked elite. Crews reached 8 Group by different routes, about two-thirds coming with considerable experience from Main Force squadrons, the rest from Coastal Command, the Middle East, or any other place where good crews could be found, including directly from the training units with no operational experience.
The Pathfinders' general level of experience and competence seems to have been much lower than Bennett would have liked, and this trend became particularly marked during the Battle of Berlin when the appalling loss rate drained the Group. In one horrendous six week period between 16th December 1943 and the end of January 1944, 87 Pathfinder crews became casualties in missing or crashed aircraft. The odds stacked against all bomber crews, Pathfinder or Main Force, were appalling.
Being in Bomber Command was an extremely dangerous way of life. Of the 125,000 aircrew who served in Bomber Command during the Second World War, 56,000 would be killed.
When they volunteered for the PFF, crews would have been aware that, if accepted, they would be signing on for a tour of 45 operations without a break (Main Force flew a first tour of 30 and a second tour of 20). The compensation for this dangerously extended tour was being one step higher in rank than in Main Force, with attendant increase in pay, but a much more compelling motive was the exclusivity, honour and glamour of belonging to the Pathfinders. This privilege was symbolised by the Pathfinder badge. Though valueless in itself, the small hovering gold eagle was an emblem of very special status, and what it represented so secret that it was never worn on operations.
Please note that the only other place on the net where this photo can be found is here at: www.lancaster-archive.com/aircrew-photos.htm I don't know who supplied the photo to that site or where that copy came from. Please get in touch if you can provide any information to add to this photo's description. Cheers Mark
email: mark at ironmanrecords.co.uk