Check out these iron prototype suppliers images:
Brickjournal 16 minifig pages PAGE 3 of 4


Image by V&A Steamworks – Guy HImber
As promised, I am posting the Steampunk Minifig pages from the awesome STEAMPUNK EDITION of BrickJournal 16.
I will attempt to credit as much of the custom parts and gear as possible!
Feel free to help me with any items I missed or miscredited!
: )
=================================
Steampunk Minfig Essentials!
by Guy Himber ( guyhimber@yahoo.com ) with help from Sodagoat
Photography by : Christine Marie Photography
We love minifig accessories. WE LOVE THEM! Be they utensils, weapons or costumes we can't get enough. In recent years, the nice folks at LEGO have realized the enormous appetite we have for custom minifig items ( just look at the success of LEGO's Collectible Minfigures series ). Do a quick search at Bricklink and there are easily over a 1,000 different official parts identified that you might add to your collection. But it's still NOT ENOUGH!
As the 4th largest toy maker in the world, LEGO is a huge company with a huge overhead . Large companies can't take too many risks when they create new parts for the toy market. The costs to design, prototype, license and manufacture a new part need to be recouped many times over to justify releasing a new minifig item. This doesn't allow our favorite toy company much room for risk.
Enter the faithful businesses and hobbyists who have come to our rescue. A small designer/producer can be adventurous. They can have a specialized stock of just a few items or create a high risk prototype that might only appeal to a few hundred collectors. As a result, there is some amazing custom and specialized gear that is waiting for your discovery!
This article features items from the many dedicated suppliers of custom eauipment for your minifig characters. The focus is on Victorian and steampunk inspired designs. Some of the pictures are complete ideas while others are just suggestions to get your creative juices flowing. Rather than specify each custom part, I leave it to you, the reader, to have some fun and do some detective work. Visit these great vendors! Also you can check my Flickr stream ( V&ASteamworks ) for detailed information about the many custom items featured.
Source List
Arealight Customs – Vast collection of fantastic Sci Fi items including their excellent female minfig torsos, custom hairpieces and jetpacks! – www.arealightcustoms.com
Big Ben Bricks – Custom Train Wheels? These precision parts come in an array of custum sizes, unique colors and are an untapped resource of Steampunk goodness – www.bigbenbricks.com
BrickArms – Will Chapman and Badger have been 'feeding the need' for amazing weapons, weapon packs and awesome minifigs for years. They are the legends of the custom parts world for good reason. Visit their inspiring collection of high quality specialty items here at – www.brickarms.com
Brick Forge – Victorian lampposts, goggles, musical instruments, utility belts, fantasy armor and weaponry. An excellent array of custom parts for your minfig needs in almost every time period or genre you can imagine! – www.brickforge.com
Brick TW – Beautiful Chinese Dynasty themed parts. TONS of Silver and Gold options. All kinds of unique colors and styles including custom hairstyles and capes – www.bricktw.com
Chrome Bricks – MY PRECIOUS! A producer of the highest quality chromed and gold-plated bricks – now in Six different colors including COPPER! -Get your favorite standard LEGO bricks in beautiful, shiny metallic glory! – www.chromebricks.com
LifeLites – Mind Blowing high intensity LED modular lighting systems. They make it easy to add dynamic lighting effects to your MOCs! Just plug and play – www.lifelites.com
Minifig.Cat – Flintlocks, umbrellas, Feudal Japan themes, utility belts and most importantly, the Steampunk essential GASMASK! – www.minifigcat.com
MMCB Capes – Fantastic collections of every type of cloth accessory you can imagine. You need a classic tuxedo or trench coat or a vest for your minifig? Visit them NOW! – www.mmcbcapes.servaus.net
Tiny Tactical – Source of some truly small detail parts and items that can make the jump to Steampunk fairly easily – Find them on Bricklink under TinyTactical
V&A Steamworks – The ultimate source for custom Stovepipe Top Hats in assorted colors – find them at www.flickr.com user ID = V&A Steamworks
YMan Capes – Creator of highly detailed minifig capes and clothing on a silk-like material – from Medieval to Modern they have some inspired designs – www.yman.cn
SMD Soldering Attempt #1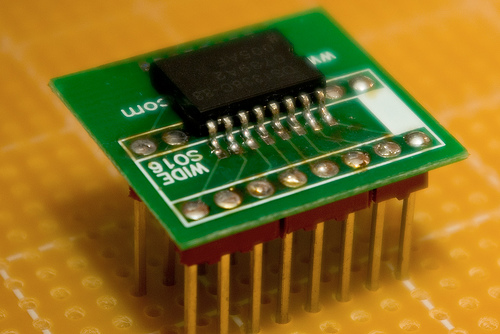 Image by Joe Plocki (turbojoe)
A buddy of mine thought I might be able to use an RTC, so he gave me one. When I looked at it and said, "surface mount, eh?", he handed me the little prototyping board to go with it. I was like "great…"
Today, while I was organizing my vast array of miscellaneous parts (most of which I have no clue what I'm ever going to do with), I found the chip and the little pcb, and thought "what the heck, Justin makes it sound easy."
Aside from the normal bit where my scorching iron leaves brown marks all over the place (yeah, it's the iron, honest…), it really wasn't that bad. The hardest part was keeping it still long enough to tack a couple of the pins down so it wouldn't move.
Anyway, this is initially going to be part of a digital clock I'm building (because, you know, there aren't enough digital clocks in the world, yet), and once I verify that I'm able to use the chip, it's going to move to the auto-guided telescope mount project I'm working on for long exposure astrophotography. Something weird is happening with that… lately, I've been feeling pretty optimistic about it, and I *think* I might get good enough tracking to long expose with a 200mm lens or better. I wonder how big the Orion Nebula is in the frame at 200 (300 effective) mm…