A few nice prototype tooling factory images I found:
Frank Lyons – 1968 Merlyn Ford Mk10 at the Goodwood 74th Members Meeting (Photo 1)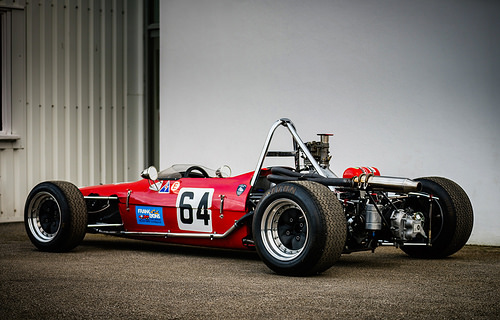 Image by Dave Adams Automotive Images
Merlyn started as a front engined Formula Junior prototype built as a personal project by Selwyn Hayward. Selwyn then went on to design and market the Mk2, producing 4 cars in total, with 2 of them being shipped out to the USA. This was then followed (unsurprisngly) by the Mk3. The Mk4 (surprisingly) was developed as a two seater road car, before the Mk5 reverted back to the race car ethos.
This design became refined over the following years, culminating in the popular Mk10 for F3 and F Libre. Colchester Racing Developments Ltd introduced a simplified version of their Mk10 F3 as the 1968 MK11 Formula Ford, and went on to produced Merlyn racing cars from 1960 to 1979. The company was founded by Selwyn Hayward and continued by his brother Clive Hayward. When the manufacture of Merlyn racing cars stopped, Clive continued to manufacture Merlyn parts as CRD Tool and Engineering Ltd.
The Merlyn Mk10 cost £950, compared to £1,450 for a Brabham at the time, so for two-thirds of the cost it proved to be a popualr choice for enthusiastic competitor on a budget. The Formula 3 Mk10 achieved four podium finishes and one win in the British championship with driver Tony Lanfranchi, and the factory team had a good run at the Grand Prix Adriatique with Dave Walker finishing first and the other factory driver Martin Stephani finishing third. The whole top five drove Merlyn cars.
__________________________________________
Dave Adams Automotive Images