Check out these metal milling parts made in china images:
RI – RY – Historical Bristol Street Directory 1871


Image by brizzle born and bred
Mathews' Bristol Street Directory 1871
Rich's Buildings, Redcross Street
Rich's Lane, St. Philips Marsh
Richmond Buildings, Richmond Road, Montpelier
1. Frederick Clarke
2. George Brown
3. Daniel Webb
4. William John Mansfield
6. W. Hawkins
7. William Hare
Thomas Buckle, Grosvenor house
Henry Boyce, Mines cottage
John Marshall Scott, Adelaide villa
John Hookins, Worcester cottage
Eliza Edmunds, Park villa
Jamcs Candy, Langham villa
Edward Trood, Isca villa
Richmond Hill, Quarry, Durdham Down
Richmond Hill, Queen's Road, top of Park Street to Pembroke Road
George Edward Lomas
Rev. J. Nisbett
Stiles Rich
William Greenslade
John G. Trenerry
John Wesley Hall
Dr. Richard B. Ruddock
George C. Glasson
John Lawrence
Mrs Jones
Colonel James Briggs
Joseph Barker
Francis Hodges, professor of music
Miss Jane Freeling
Miss Fanny Bolling
?. Chillcott
Miss Louisa Rose, Clifton villa
Miss Catherine Betts, Coburg villa
Mrs S. Maskylne, Park house
Christopher Godwin, Kingston villa
John Miller, Freshford villa
Col. Charles F. Le Hardy, Bedford villa
Mrs S. F. Henley, Thornton villa
Edward Phillips, Edgecombe villa
Gilbert C. Harris, Devon villa
Henry Shute Nash, Beckles villa
Robert Beake Simmons, Burnett villa
Edward Bush, Fairlee villa
Samuel S. Wayte, Marlbro' villa
Thomas Saunders Parnell, Southampton villa
Richmond Park, Pembroke Road
Richmond Park Villas, Pembroke Road
Mrs Kemp, Drayton villa
Rev. Aaron Rogers, Walton villa
Col. Honeyman Mackay, Inveravon villa
Miss Enesina Fearn
Miss Lucy Astley, Winford villa
James Burnett, Camp villa
Charles Isaacs, Spring villa
Mrs F. Mogg, Spring cottage
Buckingham Chapel
James Bailey, Chandos villa
John Walpole, Lansdown villa
Richmond Place, Horfield
Richmond Place, Wellington Terrace to Queen Street, Coronation Road, Clifton
Richmond Place, Richmond Road, Montpelier
Reginald A. Warren
Alfred Cooper
Mrs Jane Gummer
Mrs Jane Mercer
William Somers
William Hort
Alfred Furze
Arthur Jinks
John Pockson
Edward Collins
Thomas Oxley
George Edward Chambers
Thomas Ace
Richmond Road, Upper Montpelier, Picton Street to Fairfield Road
Mrs Elizabeth James
Mrs Ann Hensler
(Albion Place)
Joshua Marshman Hale
(Montpelier Building)
Frederick Matthew Driver, Montpelier house
1. William Brown
2. Charles Corfe
3. Reginald J. Hawkins
4. Frederick Alexander Aberson
5. Mrs Jane Mackreth
7. Rev. Edward Griffith
8. Richard Taylor
Walter Smith, Beach cottage
Mrs Elizabeth Martin, Field villa
Charles Highett, physician, Field house
Matthew Henry Hale, The Grove
Mrs Hale, 1, Fairfield villas
Edward Righton Carter, 2, Fairfield villas
Charles Rossiter, Montpelier farm
James Broadribb, 1, Rockville cottages
Edward Davis, 2, Rockville cottages
Thomas Carr, Apsley villa
Joseph Marston, Gray cottage
(Buckingham Place)
1. George Canute Whitwell
2. John Dykes
3. Robert Allen Dutson, accountant
4. William Essex LaTrobe
5. Benjamin Barrington
James Collins, Montpelier villa
John Milsom Hunt, Oak Villa
John Phillips, Paradise cottage
William Poole, Victoria cottage
Charles Skinner Coe, 1, Cadbury cottage
James Lee, 2, Cadbury cottage
William Evans, ale and porter stores, Cadbury House bristolslostpubs.eu/page131.html
(Russell Terrace)
Edwin James Smith
St. Augustine's Chapel
Charles A. Dundas, St. Augustine College
Frederick Lewis, 1, Albion cottages
Alfred Green, plumber & gas-fitter 2, Albion cottages
Thomas Shorland, painter, 3, Albion cottages
William Henry Wright, Hope cottage
Thomas Yandell, Jamaica cottage
Richard David Trowbridge, Wenworth cottage
Richmond Road, Lawrence Hill to Barton Hill
Thomas Brown, jun. (Off Licence)
J. Burt, tailor
John Thorne, dairyman
Edwin Cole, grocer
A. Warn, grocer
W. Stone
Charles Griffiths, grocer
Thomas Pitt, greengrocer
A. Jefferies
Samuel Gore, mason
John Curl, stationer
Henry Watts, vict, Bridge inn (pub) Barrow Road. 1871 – 79. Henry Watts / 1882 – 83. William Tottle / 1885 – 89. Sarah Biggs / 1891. Edward Miller / 1896. Edwin Jones 1899 – 1901. John Brownley / 1904 – 06. Harriett Leonard.
William F. Osborne, vict, Engineer's Tavern (pub) Barrow Road. 1871 – 79. William Osborne / 1882 – 91. Robert Marsh / 1892 – 96. Charles Marsh / 1899. Arthur Court / 1901. William Rawlings 1904. Frederick Gowen / 1906 – 28. Thomas Tandy / 1931. Albert Price / 1935. William Kilminster / 1937 – 38. Frederick Parker 1944 – 53. Elsie Dorothy Griffin.
Francis Crago, vict, Millwright's Arms (pub) Barrow Road 1871. Francis Crago / 1876 – 79. James Wilkins / 1883 – 85. Richard Crew / 1887 – 89. Charles Crew / 1891. Joseph Jones 1892. Thomas Bengough / 1896. Henry Walters / 1899. Thomas Woodman / 1901 – 31. Joseph Maggs / 1935 – 53. George Brookes.
Alfred Short vict, Forgeman's Arms (pub) Barrow Road. The Forgeman's Arms had been the last remaining old building on Barrow Road when it was demolished in 2009. bristolslostpubs.eu/page260.html
Richmond Street, Summer's Town, Barton Hill
W. O. Newell
William Lee
J. Francombe
John Jones, grocer
Gregory Fish, beer retailer (Off Licence)
Benjamin Scriven
James Hooper
James Peters, builder
E. Brown
D. Hamilton
Richmond Street, Cambridge Terrace, Totterdown
1. Reuben Leat, builder
2. John Hemus, waiter
3. Robert William Parker
4. Edwin Frost
5. William Clements
7. Samuel Halse, managing clerk
8. James Parish
9. George Hobbs
10. George Finkin, sugar boiler
11. Edward John Richardson
12. Samuel Lloyd, builder
13. Daniel Roberts
14. C. W. Caw
15. William Watts
17. James Flagg
18. Frederick Hall, commercial-trav
19. Francis Woodcock, chemist
20. ?.
21. ?.
22. William Tuckwell, city missionary
24. Edward Cusson, agent
25. Thomas Ford, plumber & gas-fitter
26. Orlando Harris
27. Thomas B. Smith, com-trav
28. William Henry White
30. John Wilson, tailor
31. John Richard Bowbeer, com-trav
32. Mrs. Perrin
33. Alfred Horley
34. Philip Hawkes
35. Thomas Philpotts, missionary
37. John Webb
38. John Sherer, railway guard
Richmond Terrace, Windmill Hill
www.flickr.com/photos/20654194@N07/2042727961
1. Mrs Stokes
2. William Parsons
3. George Harris Hall, (customs)
4. Mrs Chamberlain
5. James Hart
6. Samuel Smith
7. Richard Cottle, clerk
8. John Taylor
9. George Charles White, organ builder
10. Robert Mutter
11. Mrs Rowswell
12. George Burlton
13. Edward Charles, (customs)
14. Mrs Cottle
15. James Davis
16. Mrs A. White
17. Jesse T. Venn, baker
18. Isaac G. Sage
19. Edward Manning, painter, etc
20. Thomas Black, inspector of police
21. Henry P. Tolchard, compositor
22. William Price
23. ?.
24. Wllliam Tipney
25. James Trott
26. James Chivers (police)
27. Matthew Lansdown
28. George Pike, butcher
29. Henry Flower
30. Thomas Smith, dairyman
31. Mrs Salter
32. James William Kirley, police
33. Henry Vane
34. Benjamin White
Richmond Terrace, Queen's Road near Victoria Square
Robert Follett
George Fox
Adam Roberts, cooper
John Edwards, lodging house
James McKnight, lodging house
Miss Williams
Mrs Fanny Ogborne, lodging house
Madame M. Hymans
Mrs Colonel Shaw
Major J. S. Payne
Burke Payne
Frederick A. Hensler
W. Bailey
Mrs Susannah Penton
Thomas George, lodging house
George Pugsley, lodging house
John Bindon
Joseph Hort, tailor, etc
William Frederick Pearse
Abraham Moseley, surgeon dentist
Miss Burt
George Johnston
Miss Eliza Hawson, boys prep school
George Nelson Harris, lodging house
Misses Minchin, ladies' boarding school
Nurses' Training Institution, Miss Cooper
Mrs Esther Beaven
Major Charles Giberne
Mrs Glover
Miss J. W. Barrett & Miss Townsend, ladies' boarding school
Joshua Pomeroy
John D. Corfe
Mrs J. Russell
William Thomas Hammond
Mrs S. Pridham
Misses Nash, ladies' boarding school
Richmond Terrace (Upper), Barton Hill to Richmond Terrace Lower, St. Philip's
Edward Hurst
Benjamin Okey
William Beckett
George Kirby
W. P. Tapp, accountant
J. Dickenson
William Gardiner
Henry Challenger, builder
W. G. Webb, tailor & draper
Henry Watts
Charles Jefferis
Thomas Farrant, hair dresser
Thomas Derman, vict, Richmond Hotel (pub) 1871 – 74. Thomas Derman / 1876 – 78. Elizabeth Derman / 1879. Frederick Watts / 1882 – 83. J. Chivers / 1885. William Shinner 1888 – 94. George Bates Ody / 1899. George Rogers / 1906. Walter Winson / 1909. Edward Davison / 1914 – 35. Albert Turner 1937 – 38. Ivy May James.
Richmond Terrace (Lower), Richmond Road to Richmond Terrace Upper
Richmond Terrace, Woolcott Park
2. Robert Hoskins
4. William Strong
6. John Parkins, tiler & plasterer
7. James Hosay
8. T. F. Witt, tailor & draper
Richmond Villas, Springfield Road, Kingsdown
Riddle's Court, Avon Street, St. Philips
Ring's Buildings, Pipe Lane, Temple
River Court, New Street, St. Philip's
River Street, Frome Bridge to New Street
www.flickr.com/photos/qmh/3049603345/
John Robert Turner, glue manufacturer
George Tredwell
Charles Smith, oil merchant
India Blue Co. (Smith and Gregory)
Harris and Bidgood
William Jones, tanner & leather factor
River's Cottages, Upper Clifton Hill
Roach Court, Queen Street, Castle Street
Roach's Buildings, Upper Easton
6. Mrs Elizabeth Roach, brick maker
Robert Street, Barton Hill to Chancery Street
Thomas Silvey, labourer (bankrupt 1869)
Robin Hood Lane, St. Michael's Hill to Horfield Road
www.flickr.com/photos/20654194@N07/2060447266
Rock Court, Berkeley Place
www.flickr.com/photos/brizzlebornandbred/2042541259
Rock Court, Quarry, Durdham Down
Rock Place, Quarry, Durdham Down
Rockleaze, Stoke Bishop
Rodney Cottages, Rodney Place
Rodney Place, the Quadrant to Clifton Down
Roger's Buildings, Church Lane, Temple
Rookery, Ashley Road
Ropewalk, Canons Marsh
Ropewalk, Narrow Weir to Frome Bridge
Rose Alley, Rose Street
Rose Street, Great Gardens
Great Gardens Rose Street: was established in 1811 when a Jewish businessman set aside part of his land for use as a burial ground. The land was purchased by the Great Western Railway in 1913. In 1924 27 remaining tombstones were removed and erected in the Jewish Ridgeway cemetery. Ridgeway, Eastville: was established in the 1890's and the first burial there was in 1898. The cemetery continues in use today.
Edmund White, grocer
Henry Godfrey, baker
Isaac Long, grocer
Wesleyan Chapel and School
James Egginton, vict, Cherry Tree (pub) 1847. J. Hillier / 1848. James Poor / 1851 – 56. William Poor / 1863. James Poor / 1868 – 79. James Eggington 1881 – 83. John Berryman / 1885 – 86. Mary Small / 1887 – 92. William Hawkins / 1896. Hamilton Emery / 1899. Henry Small 1901. Catherine Ditchett /1904. Charles Fishlock / 1906 – 09. Albert Church / 1913 to 1935. Hannah M. Ball 1936 to 1937. Daisy Kate Ball / 1937 – 38. Sidney Price / 1944 – 50. Terence Lyons / 1953. Henry Withey / 1960. A. J. Hall 1975. R. J. Wyatt.
Rosemary Street, Broadmead
www.flickr.com/photos/20654194@N07/2056191381
John Lawrence, builder & undertaker
Samuel Arthur
George Johnson
Thomas Binchom
David Smith
Friend's Meeting House
Sarah Bowyer, greengrocer
Thomas Lewis, grocer
John Lewis
Isaac Singer, carpenter
www.flickr.com/photos/20654194@N07/2059561503
Thomas Lewis, pork butcher
James Richards
George Luce
John Gardner, greengrocer
Patrick Scammell, bakers' peel maker
Elizabeth Cousins, confectioner
John Baker, carpenter
John Wintle, funeral carriage & bus proprietor
Richard Harford, cabinet maker
John Spencer, grocer
Henry Matthews, wholesale druggist
Joseph Ogborne, vict, Crown & Anchor (pub) 1853 – 54 Robert Upton / 1855 – 56 Mary Upton / 1858 Edwin Cook / 1861 – 63 Frederick Hill / 1867 – 74 Joseph Ogborne 1875 to 1877 J. Daniel / 1878 S. Daniel / 1881 – 88 Albert Showering / 1889 – 92 Constantine Showering 1894 – 97 Elizabeth Showering / 1899 George Mitchell / 1900 to 1901 James Burge / 1901 George Fothergill / 1904 James Nelson 1906 Henry Hawley / 1909 – 14 Lillie Wride / 1921 Walter Onion / 1925 Francis Clutterbuck / 1928 Clara Davis / 1931 David Thomas.
Alfred Pain, vict, Anchor (pub) 1816 – 20 Charles Williams / 1822 – 26 William Mullins / 1828 – 33 William Lewis / 1834 Richard Williams / 1837 John Young 1839 – 48 Robert Upton / 1849 George Upton / 1851 – 52 Harriet Morgan / 1853 Henry Moore / 1853 Henry Barber / 1854 J. Howes 1855 Henry Frampton / 1857 Mary Frost / 1858 to 1860 Nathaniel Brown / 1861 William Antney / 1863 James Meredith 1866 Joseph Whippie / 1867 George Sainsbury / 1868 Alfred Pegler / 1871 Alfred Pain / 1871 – 72 Mary Clark 1874 William Robins Lovell / 1875 Thomas Brice / 1876 P. Griffin / 1877 to 1878 E. Barter / 1879 Thomas Daymond / 1880 Joseph Gould 1881 to 1886 John Day / 1887 to 1888 William Simmonds / 1889 to 1891 James Withall / 1892 William Dunn / 1894 Thomas Corcoran 1896 Charles Holley / 1897 to 1901 Annie Holley / 1902 – 04 Minnie Cleaves / 1906 Joseph D'Arc.
Queen Adelaide (pub) Rosemary Street 1832 Isaac Rogers.
Carpenter's Arms (pub) Rosemary Street 1841 to 1850 David Wookey.
John Cottrell, beer retailer, vict, Barrel Lamp (pub) John Cottrell was also a horn, glue & metal merchant. 1856 Lewis Moore / 1863 – 68 George Hurford / 1871 – 83 John Cottrell / 1885 – 88 George Ponsford / 1893 Charles Allen 1896 – 1902 Samuel Forster / 1904 Charles Hewys / 1906 – 09 Samuel Suller.
Rosemont, Ninetree Hill
Rosemont Terrace, Hotwell Road, near Clifton Wood Terrace
Charles Shipway
Henry J. Hall
Edward R. Gingell
Samuel Taylor
Joseph Weedon
Thomas Jones, smith
Samuel W. Gilmore
William H. Blanchard
John Hunt
Hannah Gibson, milliner & dressmaker
Henry Nicholls
Rowley Place, Chatterton Square, Bath Parade
Rownham Place, Cumberland Basin
George Perrin, tobacconist
Charles Kington, baker and grocer
Mrs Mary Redhead, lodging house
George E. Summers, French polisher & upholsterer
John Down
William H. Nurse, greengrocer
William Bennett, baker & confectioner
Hugh McKenna, grocer & provision dealer
Robert Padfield, grocer & tea-dealer
Robert Williams, greengrocer
James Townsend, butcher
John Parsley, boot maker
William Watkins, Charlton house
Richard Pike, tailor and draper
Henry Marshall, fly proprietor
(Gloucester Terrace)
Thomas Gardiner. general dealer
John Finnimore, fly proprietor
Recruiting Office
Mrs M. A. Cowham, vict, London Tavern (pub) 1861 – 82. Mary Ann Cowhan.
William Slaymaker, vict, Swansea Arms (pub) 1848 – 57. William Jones / 1861. Jane Davies / 1863 – 66. George Atwell / 1867. William Purdy 1868 – 69. Joseph Millier / 1871 – 83. William Slaymaker / 1885 – 87. Sidney Sturgis / 1889 – 99. Edward Bellamy 1901 – 09. Mary Bellamy / 1914. William King / 1917 – 35. Edith Gertrude King / 1937 – 53. Carl Hall.
George Talbot, vict, Horse and Groom (pub) 1837 – 44. Robert Chapple / 1848 – 54. J. Harwell / 1867 – 79. George Talbot.
John Hancox, vict, Stork Hotel (pub) Gloucester Terrace. 1871 – 77. John Hancox / 1878. N. B. Calder / 1879. Mrs. B. C. Calder / 1882 – 87. Felix Davies / 1889 – 91. Frederick Davis 1892 – 96. Mary Jane Gilshenan / 1899 – 1906. William Newman / 1909 – 14. Frederick Bennett / 1917. A. C. Clark & Co.
Edward Chappell, vict, Gloster Hotel Tap (pub) Gloucester Terrace. 1837 – 44. Francis Evans / 1848 – 49. George Badcock / 1851. Robert Chapple / 1853 – 59. Hannah Chapple 1860 – 75. Edward Chapple /1877 – 89. William Chapple.
Rownham Road, Hotwells
Royal Colonnade, Gt. George Street, Park Street
Royal Fort, St. Michael's Hill
The Children's Hospital – Mark Whitwill, treasurer. Mark Whitwill lived at Linthorpe Redland from 1892 until moving to Queen's Square in 1898. Whitwill was a second generation ship owner and broker, but also a much beloved figure in Bristol as a result of his philanthropy and public works. He was best known for establishing the Children's Hospital on nearby St. Michael's Hill in 1866, earning him the title of 'the children's friend'. www.flickr.com/photos/brizzlebornandbred/2052129423/
Rev. Henry I. Roper, M.A. Royal Fort
Mrs Tyndall
Mrs Arabella Atkinson, Manor house
Mrs Eliza Hunt, Royal Fort
George Beer, Ivy cottage
Royal Fort Road, St. Michael's Hill to Royal Fort
John Stephens
Mrs Gardiner
Francis George, cabinet maker
Sarah Ann Meaker
William Claxton, professor of music
William Barnard
The Home – Matron, Miss Bell
William H. Brison
Elbridge's School for Girls – Patron, Rev. Canon Knight. Mistress, Miss Cartwright
John Elbridge was born at Pemaquid, or Pinequid, in the eastern part of New England, the son of Thomas and Elizabeth Elbridge, who were early settlers there. The family later moved to Essex, Massachusetts. At the age of twelve he was sent with his sister Elizabeth to live with his cousin Thomas Moore, Controller of the Customs in Bristol. John eventually succeeded him in the post, and kept it until his death in 1739. In addition to this he was one of the founders of the Bristol Royal Infirmary in January 1736/7, was chosen as its first treasurer, and spent huge sums of his own money on its initial equipment and upkeep, as well as purchasing premises in Earl Street for it. At his death he left a legacy of £5,000 to the Infirmary. He also founded a school for 24 girls at the Royal Fort, St. Michael's Hill, and endowed that with a £3,000 legacy. He was one of Bristol's greater philanthropists, and has consistently received far less acclaim than is his due. His remarkable talent for making money from businrade is only matched by his liberal charity.
Royal Oak Avenue, Queen Square to Prince Street
Royal Park, Victoria Square, Clifton
Mrs Forbes
Edwin Ward Jackson
Thomas Parr
Rev. Richard W. Southby
George Jackson
Mrs Jesse Cotton
John Churchill
Mrs Stockley
?. Crocker
Mrs M. Brooke, Roslin house
Mrs Ursula Coates
Dr. Charles Robins Maxwell
Mrs Sanderson
Mrs Jemima Mary Mirrlees, Fairlight villa
W. Terry
William Lee
Joseph Sibley, fly proprietor
Royal Promenade, Victoria Square, Clifton
Royal Promenade, Queen's Road, top of Park Street
Royal York Crescent, Regent Street to Prince's Buildings
www.flickr.com/photos/20654194@N07/2061713849
1. Thomas P. Jose
2. Harry Augustus Brett
3. Mrs Garrington
5. Mrs Maylett, lodging house
Mrs Lloyd
Mrs Hutton
6. Rev. Ralph Bourne Baker
7. Mrs Ann Reid
8. Rev Charles Ellicott
9. Henry Fielding
10. Thomas Stephings
11. Charles F. Sage
12. Rev. Thomas P. Richardson
13. Misses Brackenridge
14. Mrs General Darby
15. Rev. James E. Nash
16. Mrs Atkinson
17. ?. Walsford
18. George Stacey, lodging house
19. Captain Robertson
20. Mrs Powell
21. Charles Vernon
22. General Errington
23. Mrs Julia Parr
24. Alfred Rouch, lodging house
25. Sir Abraham Roberts, K.C.B. (Order of the Bath)
27-28 William D. King, lodging house
29. James Marmont
30. Thomas Ashton
31. Mrs Hubert, ladies' school
32. Mrs Call, lodging house
33. Hugh O'Donnell, lodging house
34-36 Auguste L'Croy
37. William Blizzard, lodging house
38. Mrs Studley, lodging house
Miss Williams
39. Very Rev. Gilbert Elliott, D.D. Dean of Bristol
40. William Griffiths, lodging house
41. Lady Haberfield – The property was formerly known as 13 Victoria Street and was built on part of the back garden of 41 Royal York Crescent, to which the oldest deeds refer.
42. Frederick L'Estrange
43. Mrs Taylor
44. Thomas Wildman Goodwyn
46. Thomas Allchurch, lodging house
Mrs Tritton
47. Rev. William D. V. Duncombe
Mrs Duncombe
48. Mrs Ann Harding, lodging house
C. Gore King, surgeon
49. Thomas G. Barretti, surgeon
50. Mrs Thomas, lodging house
51. Miss E. and M. Clark, library
52. Giles and Son, chemists
Roydon Villas, Alma Road, Clifton
Ruffett Court, Rosemary Street
Rupert Place, Temple Street
Rupert Street, Christmas Street to Stone Bridge
www.flickr.com/photos/20654194@N07/2034636424
Hannah Toleman, newsagent
William Butcher, drain pipe & earthenware dealer
Jacob Dove, leather merchant
Waterman & Co. wholesale boot manufacturers
Henry Mills Price, vict, Prince Rupert (pub) bristolslostpubs.eu/page56.html
Russ Street, Upper Cheese Lane to Bread Street
Russell Court, 37, Thomas Street
Russell Court, Lawrence Hill
Russell Place, York Road Montpelier, near Picton Street
Russell Street, Redcliff Mead Lane
William Morgan, vict, Cooper's Arms (pub) William Morgan was a cooper by trade. 1861- 75. William Morgan / 1876 – 78. Eliza Fisher / 1881 – 91. William Hillman / 1892 – 99. Albina Hillman / 1901. Henry Owen 1906. Stephen Bush / 1909. Sarah Rebecca Allen.
Russell Street, Stapleton Road
Russell Terrace, Southville, Coronation Road
1. Thomas Hemmons
2. William Darsley
3. John Sargeant
Russell Terrace, Richmond Road, Montpelier
Russell's Fields, Bishopston
Ruysdael Place, back of Triangle, Clifton
William Read, teacher of piano-forte
William Read, grocer & china dealer
Henry A. Wickham, draper and hosier
Sarah and C. Ward, dressmakers
Thomas Withers, mason
Charles Harwood. dentist
Robert Simmons
T. Young, house decorator
Thomas Seed, photographer
Mrs Thomas, Tabor's register office
W. S. Edbrooke, brightsmith
John Ellis
Francis Baskerville
William King
King Brothers, carpenters
Henry H. Wilkes, ladies & children's outfitter
James & Son, furniture brokers
Rydal Terrace, Redland Park
William Fraser
Robert John Hancock
Mrs J. Gascoyne
Robert Hall Warren, Brunswick house
SA – SQ – Bristol Street Directory 1871
Q – Historical Bristol Street Directory 1871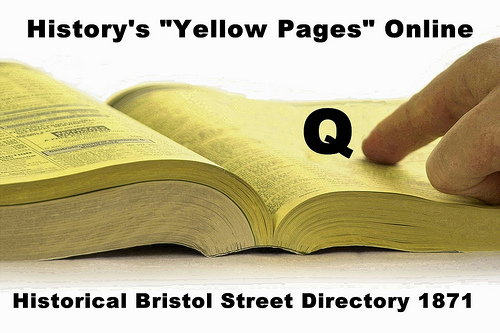 Image by brizzle born and bred
Mathews' Bristol Street Directory 1871
Quadrant, Victoria Street, Clifton
Quakers Friars, Merchant Street
Quarry, Durdham Down
Quarry Steps, Durdham Down
Quay, Stone Bridge to Drawbridge
Annetta Hutchings, vinegar & spirit dealer
Kemball and Powell, agents to Coope & Co
Earnest George Lorymer
Edward Theodore Bullock, agent to Bass & Co. – sack depot
Sylvanus Hunt, provision merchant
Alfred Albert Holmes, corn merchant
Thmas James Marshall, agent to Manders and Co. porter brewers
George Edward Taylor, leather merchant
West of England Coal Co. – manager G. Cox
J. N. Rickards
Coalbrookdale Co. ironfoundrs
Jonathan Smith & Co. wholesale grocers
John Shaw, printer
?. Parker, wine merchant
Poole Brothers, coal merchants
George Hurcum, vict, White Lion (pub) In 1888 the pub was rebuilt, costing Ushers £212. bristolslostpubs.eu/page74.html
Quay, (Broad), Drawbridge to Narrow Quay
George Sprackett, chemist
Dunlop, Mackie & Co, wine & spirit merchants
Christopher Polkington, insurance agent
W. Underwood, engraver
F. Rumley, architect
Burge & Co. iron merchants
Hill and Price, opticians, etc
James Horlick, bread & biscuit baker
George Blackmore, boot maker
Ludlow & Co. wholesale wine & spirit merchants
William Hawkes, ship chandler
Joshua Le Ray, ship broker
W. G. Warne, agent for Bideford & Barnstaple steamers
Henry B. Willett, engraver
George Rogers, outfitter
Henry Lockyer
William Byrt, cooper
Thomas K. Dredge, Temperance Dining rooms
William Langford, nautical instrument maker
Myer Isaacs, outfitter in oilskins
Cipriano Denova, tailor
Charles Van-Dam, tobacconist
Henry Fitzgerald, house & ships joiner
James Speller, temperance hotel
John Cole, tobacconist
Charles Pitt, chemist
Edwin Leach, watch maker
Jacob Ash, boot maker
H. H. Bartlett, ship portrait painter
Joseph Williams, outfitter
John Burrows, boot maker
Newman and Somers, cabinet makers
Lewis Bizley, vict, Sedan Chair (pub) Known as Dunlop's for most of the 1960's and 70's the Sedan Chair has suffered several more name changes over the last few years and is now closed. bristolslostpubs.eu/page62.html
Fred Payne, vict, Champion of Wales (pub) 1755 Thomas Dodderidge / 1762 Bar. Augustine / 1775 Mary Tomkins / 1792 – 94 Rachel Organ / 1800 Joseph Powell 1806 John Finch / 1816 Sarah Murdock / 1820 – 31 Richard Badham / 1832 – 44 Joseph Bright / 1847 – 51 Martha Bright 1851 to 1857 John Dyer / 1858 to 1859 Elizabeth Leaker / 1860 J. King / 1863 – 65 Mary Berry / 1866 to 1867 Francis Quartly 1868 to 1877 Frederick Payne / 1878 to 1887 James Dent / 1888 – 89 Henry Cuff / 1891 Thomas Read / 1892 to 1896 Joseph Puddy 1897 – 99 Frederick Brookman / 1901 – 14 William J. Beavis / 1917 – 28 Samuel Tovey / 1931 – 38 Thomas Smith / 1944 James King 1950 John Paul / 1953 Reginald Prior.
William Arthur, vict, Barnstaple Arms (pub) previously named the Wellington. 1857 – 61 Hugh Pollard / 1863 Robert Hugh Pollard / 1865 R. Horsington / 1866 to 1867 Margaret Horsington /1868 Richard Silk 1869 to 1871 William Arthur / 1872 Edward Williams / 1874 – 78 Carlos Ferrer.
Thomas Green, vict, Gloucester House Tavern (pub) 1822 John Edmonds / 1823 Deborah Landers / 1826 J. Bastow / 1828 G. Gulley / 1830 – 32 Charles Hillier / 1833 Richard Bendon 1834 George Tavener / 1837 – 40 Henry Matthews / 1844 – 47 David Thomas / 1848 – 49 Robert Burns / 1851 – 60 Thomas Head 1863 – 71 Thomas Green / 1872 to 1878 Vincent Casella / 1879 William Wallace.
Dennis Rees, vict, Cornish Mount (pub) 1752 – 55 Richard Compton / 1794 Robert Roe / 1806 Mary Lewis / 1816 James Cottell / 1820 – 26 James Cox / 1828 John Kerby 1830 – 31 James Hartland / 1832 George Paris / 1833 Timothy Furlonger / 1834 Joshua Tavener / 1837 C. Spence 1839 – 40 John Medlam / 1842 James Boxwell / 1844 L. Shilabee / 1847 – 49 David Price / 1851 – 52 John Perry / 1853 – 55 Ann Price 1856 – 58 Ann Rees / 1860 – 79 Dennis Rees / 1881 – 88 Mary Rees. John Medlam also traded as a cider merchant just up the road in Sedan Chair Passage.
Richard Wilson Silk, vict, Garrick's Head (pub) No.62 Broad Quay (No.22 from around 1904). Previously the St.Patrick's Tavern, the Garrick's Head was rebuilt in 1890 and was demolished in 1978 to make way for an extension to the Bristol & West building. The architect of the Garrick's Head was Edward Gabriel who also designed the Cambridge Arms in Redland and the Pilgrim, Brislington. In 1828, John Fisher is listed as: 'waterproof hat maker and wholesale & retail spirit dealer, (home brewed beer). bristolslostpubs.eu/page32.html
John Flint, vict, Bell (pub) 1806 William Smith / 1816 – 37 William Leaker / 1840 – 52 Richard Power / 1853 to 1856 John O'Connor / 1857 to 1859 Mary Ann Power 1860 – 63 Charles Townsend / 1865 – 66 William Lancaster / 1867 to 1868 Richard Bellamy / 1869 Frank Beard / 1871 John Flint 1871 Thomas Carey / 1874 – 78 William Carey / 1879 – 80 Jeremiah Searle / 1882 James Blake / 1883 James Poolman.
Quay, (Narrow) Broad Quay to Grove
Tratman Brothers, ship chandlers (later Tratman & Lowther Ltd) the Bristol firm of ships stores merchants and sailmakers, are buried deep in the days when the city's waterfront stretched far into what is now the traffic-congested, garden-decked Centre. www.flickr.com/photos/20654194@N07/2132334171
Hickman and Son, corn merchants
George Nash, shlp chandler
John Poole, tailor
Hayle Steam Packet Office – agent, Thomas Bax
James Creswell Wall, railway agent
Midland Railway Co. F. S. Toplis agent
Alfred Pearce, provision merchant
Thomas Dallin, sail and ship colors maker
George A. Cates, engineer
Swansea steam packet office – J. W. Pockett
M. J . F. & A. Alexander, commission merchants & ship agents
John Pickford, block & mast maker
James Lush, sack depot
James Fowler, metal agent. Farr's lane
Jacob Wallington & Sons, printers
Charles Gane, corn merchant
John W. Egerton, Levant merchant
Henry Fitzgerald, block maker
G. M. Hope & Co., ale & porter merchants
Emmanuel Wait, sail maker
George Dawson, Eagle Hotel
George Townsend, vict, Brandy Cask (pub) On the corner with Alderskey Lane, part of the site cleared to make way for the C.W.S. Building around 1901. George Poole was a Master Mariner and licensed victualler. bristolslostpubs.eu/page19.html
Elizabeth Rees, vict, Ship and Pilot Boat (pub) 1794 Sarah Sturling / 1806 William Black / 1816 – 23 John Welch / 1826 Richard Briffet / 1830 – 40 James Whatley 1842 George Barratt / 1842 – 44 George Marsh / 1847 James Burrows / 1848 to 1867 John Carter (capt) / 1868 – 72 Elizabeth Rees 1875 Theodore Meyer / 1876 to 1878 William Robert Brooks / 1879 Robert Thomas / 1882 Mary Tannahill / 1883 – 87 Charlie Pfeiffer 1888 – 89 George Woodland / 1891 William Keynton / 1894 William Thomas / 1896 Jane Thomas / 1897 William Bowden 1899 – 1901 William Lucy / 1904 Helena Lucy / 1906 James Price / 1909 George Apperley / 1914 – 17 Cesare Jacomelli 1921 William Howe / 1922 – 28 Samuel George Handford / 1931 – 38 Beatrice Handford / 1939 Philip John Smith.
Patrick Gorey, vict, Goat in Armour (pub) Between Alderskey Lane and Currant Lane, this area was cleared in 1901 to make way for the C.W.S. building which has since been demolished and replaced with an office block. When the Goat in Armour closed, Shadrach Potter moved to the Pioneer, in Keynsham. bristolslostpubs.eu/page34.html
Richard Thomas, vict, Old Port Tavern (pub) Between Currant Lane and Assembly Rooms Lane, pictured here in the 1890's this pub was long gone when the extension to the C.W.S. was built on the site in 1959. Later on this site was an office block occupied by Burges-Salmon. bristolslostpubs.eu/page49.html
Sarah Langdon, vict, West India Tavern (pub) 1826 Mary Corcoran / 1828 Thomas Lovering / 1863 Thomas Price / 1865 George Morrall / 1866 Henry Hallett / 1867 Robert Waters 1868 W. Galesworthy / 1869 – 79 Sarah Langdon / 1882 J. Bullock / 1883 James Morgan.
Quay Street, Stone Bridge to Nelson Street
Johnston & Fry, bed & mattress maker
(Rupert Chambers)
Godwin and Crisp, architects
Charles Underwood, architect
E. G. Bompas, architect
T. Phillips
Loxton and Craik, surveyors, etc
Worth and James, wine merchants
William Baylis, watch maker
John Francis Collins, spirit vaults
Walsh & Co. wholesale clothes makers
Norcot Morley, rag merchant
Dupen & Co., wine & spirit merchants
Powell and Sons, printers
R. Gwyther, com-agent
Isaac Arrowsmith, printer, etc
Arrowsmiths of Bristol
The founder of the firm was Isaac Arrowsmith of Worcester, a leading figure in Worcester Political Union in the mid 19th century, also a founder member of Worcester Typographical Society, and a proprietor of the Worcester Chronicle.
In 1854 Isaac Arrowsmith moved to Bristol, where he entered into partnership with Hugh Evans, stationer and bookseller, of Clare Street. Their first joint venture was a penny Time Table of Steam Packets and Railways, which appeared in July 1854.
The partnership ended in 1857, when Isaac Arrowsmith moved to 11 Quay Street.
The business expanded, including a great deal of printing work for the Great Western Railway. When Isaac died in 1871 the business passed to his son James Williams Arrowsmith, who developed the publishing side of the business, with great success.
Titles published during these years included Three Men in a Boat (Jerome K. Jerome), Prisoner of Zenda (Anthony Hope) and The Diary of a Nobody (George Crossmith). J.W. Arrowsmith was also a leading figure in Bristol pubis death in 1913 his nephew, J.A. Arrowsmith-Brown succeeded to the business. Arrowsmiths were printers to Bristol University from 1877 and also carried out printing work for a large number of other Bristol establishments, including Clifton College, the Children's Hospital and Bristol Record Society.
The publishing side of the business did however decline during the early years of this century, while the printing work has continued to flourish. In 1937 on the death of the chairman, the business passed to his nephew, R.H. Brown. Under his guidance the business, which had expanded beyond the capacity of the Quay Street premises, moved in 1954 to a modern factory in Winterstoke Road, giving ample room for further expansion and the adoption of the most advanced techniques.
Michael Clune, vict, Greyhound (pub) 1752 – 64 John Morgan / 1775 Jane Bowls / 1800 John Beaven / 1806 John Coleman / 1816 Joseph Bullock / 1820 William Jones 1823 – 28 Joseph Burrows / 1830 Elizabeth Burrows / 1831 to 1833 Robert Ross / 1834 James Seward / 1837 – 48 John Mortimer 1849 to 1868 George Mortimer / 1869 to 1874 Michael Clune / 1875 John Tilley / 1876 Ann Tilley / 1877 W. Belcher 1878 G. Attenborough / 1879 Ellen Clements / 1881 Mary Hopkins / 1882 Fanny Wise / 1883 Frederick Lovett 1885 – 86 Elizabeth Frankham / 1887 – 94 Emma Syston / 1896 Elizabeth Bucknell.
Queen Ann Street, Barton Hill
Queen Square, St Stephens and St Nicholas
Custom House
John Baker
David Davies, surgeon
Thomas Porter Jose, Danish Consulate
William Wilberforce Jose, tobacco broker
John Franklyn, attorney
Charles Turner
William Lemon
John Hassell
Henry R. James, ship broker
W. Fletcher (customs)
John Rudhall
Joseph Benden (agent to Wyke & Son)
Boutelleau & Co. Champagne Vineyard Proprietors' Co.
George Acutt, corn merchant
Mrs. Williams, boarding house
Mrs Warton
P. S. Kenway
Chessell, Hatton, & Co. commission merchants & ship brokers
James Poole
Henry H. Cundy, lodging house
Henry Prowse, accountant
Bristol Charity Trustees office – Alfred R. Miller, secretary
W. C. Lucy & Co., corn merchants
F. Barnard, corn merchant
William Thomas Reed, sail. maker
Swan & Co. opticians
John Cox
Bristol Docks Office
Thomas Flewell
Turner, Edwards & Co., shipowners & brokers www.flickr.com/photos/20654194@N07/9643754234
William Granger, cooper, etc
John Hellicar, merchant
John Fisher, J .P. (Justice of the Peace)
William Tapson, academy
James Hewett, grocer
William John Nicholls, lodging house
James Rowe, mariner
Sailor's Home – superintendent, Capt. T. Hutchins
Haycroft and Pethick, merchants
F. Trobridge
J. S. Fisher & Co., corn merchants
Fanny Matthews, lodging house
Robert Houghton
Frederick Davey, marine stores
T. F. Pearse, shipbroker
G. E. Ford, shipping agent
C. W. Robins, shipping broker
Mrs Keats, boarding house
Mrs Catherine Norton
Davies Brothers corn & prov. merchants
Elizabeth Wareham
Grace Sloley, lodging house
A. L. Sully, block maker
Sophia Box
James Warren, flour mills
E. H. Morrey & Co. wine merchants
Rev. E. B. Brackenbury
George Gwinnett (customs)
Theodore Nebendahl, ship chandler
James Warren, ship biscuit baker
John G. Heaven
T. Hugh Fisher (customs)
Eliza Hood, lodging house
Edgar Stanton, U.S. Consulate
T. N. Dos Santos
Henry Smith, Phoenix house
Samuel Baker, water bailiff
Mary Gwyer
James Phillips, Sovereign Life Assurance Co.
Mary Ann Johnson, lodging house
Leonard Bruton
William Edward Shapland
John Blythe
Samuel Henry Hyde, secretary
Charles Thomas Bennett, Spanish Consulate
Ann Edmonds
John Drinkwater
William E. Bowyer, tea broker
Charles Henry Snell
Isabella G. Rae
Susan Brewer, lodging house
Thomas F. Wade, accountant
William Edkins
Miles Brothers & Co. merchants
George Room
W. H. Kemball
C. J. Areskog & Co. ship brokers
Alfred Smith Sc Co. custom house agents
Edward D. Smith, wine merchant
(Mansion House Avenue)
Evan Evans, broom dealer
Miss Lucas, milliner
(Mill Avenue)
William Blann, hoop rounder
(Grove Avenue)
Frederick Davey, stationer
Whitwill & Son, ship owners & agents www.flickr.com/photos/20654194@N07/4629056829
Hall and Adey, provision merchants
Alfred J. Box, carpenter
(Bell Avenue)
Mary Blann
James Huckman, boot maker
George Toogood, timber yard www.flickr.com/photos/20654194@N07/2057320868
Queen Square Avenue, Queen Square to the Back
Queen Street, 62, Castle Street to Passage Street
Margaret Ford
James Curry, tiler & plasterer
Edward Crawford, scale-beam maker
Pendock Brothers, Wharf house
Richard Balding
David Woolcock, paper hanger
Purnell, Webb, & Co. vinegar works
Matthew Hale, Queen St. Sugar House
Robert Lovell, box and scale-board maker & cooper, vict, Jolly Metre (pub) (Castle Precinct, St.Peter's) 1794. Elizabeth Herapath / 1816 – 22. Abraham Newton / 1823 – 34. Samuel Bailey / 1837 – 48. Mark Oatway / 1849. J. Wilkins 1851. William Pring / 1853 – 61. Robert Burnell / 1863 Thomas Burnell / 1865 – 78. Robert Lovell / 1879 – 89. William Parker 1891. George Mills / 1892 – 96. William John Windows / 1897 – 1906. William Alfred Lloyd.
George E. Pearce, vict, Bath Barge (pub) (Castle Precinct, St.Peter's) 1775. Thomas Palmer / 1820 – 22. Sarah Bishop / 1823. Benjamin Williams / 1826. E. Williams / 1828. Joseph Mathias 1830 – 34. William Burbidge / 1837 – 56. John Chapman / 1857 – 69. Robert H. Pring / 1871 – 72. George Pearce 1874 – 76. George Charles Thorne / 1877 – 78. George Gillard / 1879 to 1887. Edward Gillard / 1888 to 1891. Edward Parkhouse 1892 – 97. Richard Williams / 1899 – 1901. William Smith / 1904. Arthur Hudd / 1906 – 09. Levi Barrett.
Queen Elizabeth Place, Folly Lane
Queen Street, Christmas Steps
Queen Street, Regent Road to Coronation Road
John Eastman
T. H. Lethbridge
Miss Dodge
Absalom Deacon, beer retailer, vict, Queen Adelaide (pub) 1837 – 44. John Selway / 1847 – 57. Margaret Selway / 1860. J. Turner / 1863 – 69. Mary Bennett / 1871 – 82. Absalom Deacon 1883 to 1885. Susan Deacon / 1886 to 1887. Richard Scobell / 1888 – 99. Tom Searle / 1901. Annie Atkins / 1904 – 06. John Atkins 1909 – 21. Frank Horsey.
Queen Street, (New) Whitehouse Street
Charles Dashfield, grocer
John Parker, beer retailer
Cape Horn (pub) New Queen Street. 1871 – 72. Thomas Walker / 1874 – 77. William Marshall / 1878. Michael Casey / 1882 – 83. R. Harvey / 1886. Frederick Rhymes 1887. Alfred Day / 1888 – 89. Elizabeth Ann Hollisey / 1891. Ann Pardy / 1892. John Bell / 1899. George Webley.
James Filer, beer retailer, vict, Queen's Head (pub) New Queen Street. 1871 – 72. Thomas Walker / 1874 – 89. James Filer / 1891 – 96. Francis Bacon / 1899. William Still / 1901. Mrs. F. Still 1904 – 21. Robert Avis / 1925 – 35. Ernest Freebury / 1937 – 38. Elizabeth Freebury / 1938 – 44. Thomas Sparkes 1949 – 50. Albert Edward Bennett / 1953. Ivy Bennett.
John Bryant, vict, Robin Hood (pub) 1867 – 77. John Bryant / 1878 – 83. Jane Bryant.
Queen's Head Court, Redcliff Street
Queen's Parade, top of Brandon Steep, Brandon Hill
John Barrett, professor of music
Thomas Cade, veterinary surgeon
John Ullathorne, accountant
Thomas Player
Joseph Albert Ayre
James Fawn
James Anderson
Thomas Coulsting
John Hall
Joseph Benjamin
Mary Widdicombe
William Thatcher, police inspector
Prudence Knowles
George Barrett, organist
James French
Queen's Parade, Stapleton Road
Queen's Road, top of Park Street to Victoria Square
Blind Asylum Chapel
Head Quarters of 1st Gloucestershire Rifle Volunteers, Major Bush; sec. Charles Abbots Peters. In 1859, the 1st and 2nd Gloucestershire City of Bristol Rifle Volunteers were formed, both having links with many of the Volunteer Corps formed during 1797 and 1814.
Bristol Library, librarian, John Taylor
Rifle Drill Hall
Racquet Court – manager Joseph Jefferies
Gymnasium – manager T. Elliott
Daniel Baskerville & Son, nurserymen
(Royal Promenade)
Charles William Allen, photo artist
Miss Martin, milliner
Jeffery and Co. tailors
Kerslake & Co, booksellers & binders
Charles Way, artist's repository
M. Guttenburg
H. France, bookseller and stationer
John Palmer, ironmonger
George Webber, hairdresser
Alfred Ashmead, ironmonger
Thomas G. Mundy, glass & china dealer
F. Knight, linen draper
Charles Wornell, bookseller
William Henry Collins, chemist
Philip J. Smith, music warehouse
William Bateman Reed, builder, Queen's villa
Queen's Hotel, William Bateman Reed
Victoria Rooms www.flickr.com/photos/20654194@N07/2060945390
Cyrus Voss Bark, photographer, Strathearn house
(Chesterfield Place)
Miss Makeig, private boarding house
G. S. Williams, surgeon-dentist
Augustin Prichard, surgeon
Lewis Solomon, Tortworth villa
Philip R. Slelman,F.R.C.S, Montrose house
(Richmond Terrace)
Thomas Sherwood Smith, Herbert villa
Fulke L. W. Barnard, Goodwood villa
Henry Vines, photographer, Glencairn villa
Mrs Ellen Gilmore, Nelson lodge
Joseph Henry Smith, Waterloo villa
Arthur Baker, Park house
(Triangle)
Hatch & Co., hosiers & outfitters
Walter Rendell, grocer
Mrs W. Baker, millinery rooms
E. J. Gibbons, Berlin depot
W. Chatterton Dix, printseller & art dealer
Edwin Wheeler, chemist
William Neild, old bookseller
E. & M. Head, stay & bandage makers
Houston & Burgess, milliners
John S. Williams, watchmaker
N. Ennel, photographer
Mrs A. Wills, teacher of music
R. W. Bingham, bookseller
Mesdames Jones, milliners
Mrs Kernick, dressmaker
Miss Smith, school
Edward Cox, haberdasher
A. Charbonnier, naturalist
A. Mountsteven, dressmaker
Joseph Fisher, fringe manufacturer
Benjamin Goodenough, boot maker
John Frost, artists' colorman
Alfred Hodder, chemist www.flickr.com/photos/20654194@N07/2061622009
Charles Way, artists' colourman
Henry E. Penny, draper, etc
Railway Co's office, Charles Blake
G. J. Ayre, fishmonger
John Maisey, trunk maker
William Charles Crew, cabinet maker
Daniel Baskerville & Son, nurserymen
William B. Payne, watch-maker
Robertson, Pitt, & Co. umbrella makers
E. Harper, ladies' outfitters
E. H. Weeks, confectioner
Smith & Son, greengrocers
Miss Eyles, picture frame maker
Robertson, Pitt & Co. importer of cigars
?. Young, toy warehouse
Henry Butterworth, working jeweller
Cima and Jacomelli, confectioners
Charles Bowdich, boot maker
Charles H. Bedingfield, tobacconist
Thomas Sherwood Smith, house agent
Quiet Woman's Court, Temple Street
RA – RE – Bristol Street Directory 1871
CA – Historical Bristol Street Directory 1871


Image by brizzle born and bred
Mathews' Bristol Street Directory 1871
Caledonia Place, Sion Hiil to Mall Buildings, Clifton
Mrs Thomas Butterworth
Cooper Reade, surgeon
Mary Powell, lodging house
Jesse Peachey, lodging house
Mrs. Watley
Mrs Luxmore
Misses Davey
Robert H. Rickards
William Cross, surgeon
Julius Miles
John M. Walcot
Mrs S. Howe
Mrs J . M. Cholmeley
Mrs Sarah Woodley
Mrs Whish –
Miss Farleigh, lodging house
William Adams, lodging house
C. J . Rumbold
Henry Thomas Bridges
Samuel Cryer, lodging house
Mrs Povey, lodging house
Mrs General Roberts
George Young, lodging house
Miss May
Miss Taverner
Mrs H. Forsyth
Rev. Ralph Lambton Hopper, MA.
Miss Payton Sadler
John Southwood
Jean Van Houtrive
Mrs Elizabeth Brown
Dr. Henry Marshall
Mrs Henry Seymour
Miss Burrow, lodging house
Col. Saville
Callowhill Street, Leek Lane, Milk Street to Clark Street
William Penn the founder of Pennsylvania married Hannah Callowhill.
Leek Lane connecting Broadmead and Milk Street (which ran from Horsefair to Newfoundland Street).
The site is now covered by the part of the Broadmead shopping centre that is adjacent to Cabot Circus.
C. Hart, baker
William Higgins, boot maker
Thomas Hill, vict, the Apollo (pub)
Elizabeth Jones, vict, Prince of Wales (pub)
Prince of Wales, Callowhill Street
1868 Mary Ann Roberts / 1869 John Jones / 1871 – 72 Elizabeth Jones / 1874 James Willey / 1875 Thomas Morgan / 1876 Henry Tucker 1877 – 79 William Hacker / 1882 – 83 Henry Hathway / 1885 – 89 Thomas Hill / 1891 Eliza Ann Hill / 1892 John Thomas 1896 William Burgess / 1897 – 99 Thomas Hill / 1901 Arthur Dare / 1904 W. J. Rodway / 1906 John Fitter / 1909 – 14 William Blackmor James Harding.
Cambridge Park, Redland, Durdham Down
Mrs Shuttleworth
Mrs Hussey Gould, Dorset lodge
Rev. ?. Barnes
Rev. Edward. St. Jn. Parry, Tudor house
Cambridge Place, Harley Place to Canynges Road, Clifton
Mrs O. C. Lane, Seymour villa
Miss Edwards
William Thomas Palmer
Mrs Ellis
Edmund Edmunds
Mrs Annie Bowling
Mrs Thomas Trimnell
William Richards
Mrs Mary Hume
Mrs Jane Robinson
Richard Sanders
Mrs Elizabeth Gullick
Emile Arnold Praeger, artist and engineer
Miss Le Grice, piano and singing
?. Wilkins
Mrs Carus Wilson
Mrs Margaret Keir
William Snook, lodging house
Miss A. Townsend
Miss L. Palmer
Cambridge Place, Seymour Road, Stapleton Road
See Seymour Road
Cambridge Street, Wells Road to William Street, Totterdown
William Ashton Primrose, Cambridge lodge
Thomas Powell, Raglan house
Joseph Coles, fly proprietor
Henry Young
Theodore Young
Stephen Masters
John Howell
Thomas Vicary
William Angle
John Westcott, Devonshire dairy
Phillip Levering, tea dealer
Phillip Light, carpenter
Robert Macfarlane
Richard Richards, miller
Cambridge Terrace, Cambridge Street to Richmond Street, Totterdown
George William Brackstone
John Tovey, painter
Richard Richards, draper
Thomas Pearson
Frederick Kneller
Thomas Hurford
Jos. Lowden
Mrs. Hall, ladies boarding school
John Mortimer, clerk
Henry Woodman
John Adamson
John Jarrett
James Rathbone
Charles Sibley
John Tucker, grocer & beer retailer
Cambridge Terrace, Seymour Road, Baptist Mills
See Seymour Road
Camden Cottages, Stapleton Road
See Stapleton Road
Camden Terrace, Clifton Vale to Hotwell Road
Robert Purnell, lodging house
Mrs Hannah Hitchcock
Mrs Elizabeth Carter
Robert Marks
George M. Carlisle
John Davey
Mrs Hazard
George Drummond, Channel Docks Co.
Alfred Emblin
Frank Mulleny
Capt. William Outerbridge
John Wear, accountant
Henry Jones
Peter Bull
Henry George Raymond, carpenter and contractor
Robert Williams
Mrs Mary Williams, dressmaker and milliner
John Gardiner Fraser
Camden Terrace, Guinea Street, Redcliff
www.flickr.com/photos/brizzlebornandbred/2060447406/
See Guinea Street
Camden Terrace, Cotham Road, South
Campbell Street, Grosvenor Road, St. Paul's
Mrs Ann Robertson
John Waters
James Harry. Lovell, professor of music
Mrs Short
Mrs Ann Lewis
Joseph Evans Pearce
Henry Fuller Stokes, sign-writer on glass and wood
William Henry Poole
Henry Fullford
James Taylor
Tom Pusey
Thomas Dunn
Henry Wyatt
Thomas Tarr
William James Brown, com-trav
Thomas Mitchell, carpenter
Thomas Naylor
Josiah John Brain Taylor
William Gibbs
James Underhill
Joseph Norman
John Clyne
Campbell Terrace, Baptist Mills
Canning Street, Pennywell Road
Canon Place, Folly Lane, Dings
Canon Street, near London Inn, East street, to North street, Bedminster
In Cannon Street, Moses Reynolds complained of Henry Williams burning pigs and melting fat at his piggery, but nothing seems to have been done about this complaint.
In addition to the nuisance caused by deposits of filth and the close proximity of animals to houses, not least was the effect upon the environment by local industry.
In 1853 the Bristol Board of Health asked Messrs Stephen Cox and Co to discontinue the practice of burning Wet Tan at their premises in Whitehouse Street. Cornish and Parnell, solicitors for the company, maintained that the burning of Wet Tan was not a nuisance, neither did it give off any noxious or offensive odour.
Fleshings and butcher's offal were common offenders, together with slaughterhouses. It was decided to advertise in the local press requesting all butchers and slaughterhouse keepers to register with the Board. By 1894, the following slaughterhouses were registered in Bedminster.
Charles Norris, painter
Susan Hobbs, shopkeeper
William Worgan, marine store dealer
Wm. Franklin, com-trav Eldon cottage
William Rowe, vict, London Tavern (pub)
London Inn, Cannon Street
1775. William Morgan / 1816 – 20. Thomas Lamprey / 1822. Charles Lamprey / 1823 – 30. Charlotte Lamprey 1831 – 34. Mary Clements / 1837. Charlotte Lamprey / 1839 – 42. John Abbott / 1843. Henry Williams / 1844 – 50. John Spiller 1852 – 53. John Thompson / 1854 to 1857. Joseph Bridgeman / 1858. John Wall / 1860. Jeremiah Reay / 1863 – 67. Thomas Farmer 1868 – 89. John Rowe / 1891 -1904. Aubrey Lock / 1906. Frederick Carr / 1909. Emma Carr / 1914 – 17. Harry Hopkins 1921 – 25. Charles Marr / 1928 – 31. Edward Godwin / 1935 – 38. William York / 1944 – 53. Albert Tew / 1960. E. A. Bird 1975. F. A. Hennessy.
Canon Street, St. James's churchyard to Lower Montague St
Mrs Gay
Mrs Murdon
John Gordon, greengrocer
Benjamin Canning, cabinet maker
David Keely
Thomas Beedell
Presbyterian Night School
George Cavil, grocer
Charles Slade, vict, Canon Tavern (pub)
Cannon Tavern, Canon Street
1775 James Nowell / 1837 – 39 J. Bidgood / 1840 J. Hurbert / 1844 Maria Collier / 1847 – 48 William Jones / 1849 George Baggott 1851 Joseph Jarvis / 1853 – 56 James Fouracres / 1857 to 1859 Robert Green / 1860 – 65 Richard York / 1867 – 69 John Lewis 1871 Charles Slade / 1872 to 1877 Christopher Broom / 1878 – 79 James Kemp / 1882 – 83 Charles Lapham / 1885 Chris. A. Broome 1886 K. Scriven / 1888 George Cornish / 1891 – 93 James Hole / 1896 John Crocker / 1897 – 99 Henry Wyatt.
James Webber
Henry Street
Thomas Knill
Charles Ley
William Evans
Presbyterian School
James Porch
Evan Francis, boot maker
Richard Mountain
Thomas Bucknall
George Gillard
Mrs Walsh
?. Hall
Canons' Marsh, Gas works to Butts
The Bristol Gas Works
William Brent
George Rogers Thomas
Jones & Nash, timber merchants
F. K. Barnes and Sons, timber merchants
James Temple and Sons, slate and marble merchants
Liverpool Steam Packet Co. – G.W.H. Evans, agent
William Baker and Co. builders
Thomas Tyley, marble works
James and William Peters, ship builders, Canons' Marsh Graving Dock
Heber Denty, timber merchant
George H. Rains & Co. wire, hemp, rope and sail, manufacturers
Charles Roach
John Wickham
John William King
Thomas Bowyer, vict, King George (pub)
King George Tavern, Canons' marsh
1800 Elizabeth Bevan / 1816. John Bevan / 1820. John England / 1822 – 23 George King / 1826 – 31 John Bryant 1832 – 34 Ann Thorne / 1837 – 53 William Luens / 1854 – 67 William Winter / 1868 – 72 Charles Lea / 1874 – 78 Thomas Bowyer 1879 – 89 Ellen Godfrey / 1891 – 97 Richard Hancock / 1899 Eliza Hancock / 1901 Elizabeth Nichols John England also traded as a tiler and plasterer, in Rosemary Street.
William Howell
Ford and Canning, coopers and warehousemen
George Church
Michael Clark, grocer
William Lee, builder & slate merchant
Canynge's Road, Harley Place, Clifton Down to Durdham Down
Charles Arthur Jacobs, livery stables
Misses Fitton, Wellington villa
James Siston
William Baker
William Powell, Norland house
Mrs E. Graham
Robert Coles
(Somerset Place – Somerset cottage)
Miss Harriet Spiring
Edward Bevan
William Beatson, M.D.
Mrs Buckingham, lodging house
Mrs Jane Waygood, lodging house
Miss Lane
Mrs A. Jameson
Charles Arthur Jacobs, riding master and livery stable keeper
John Pearce, dairyman
Mrs Hutton, Prospect house
The Misses Hendley, Somerset house
Thomas Proctor, Elmdale house
James Christopher Wilson, Farfield
Rev. Richard William Randall
Capt. Harry John Curteis, Clarendon villa
William Frederick Phillips, Coniston lodge
Alfred Newton Herapath, Penleigh villa
Charles Somerton, Norman villa
Dr. William Trotman, Energlyn
(Harley Place Lower)
Miss Catherine Burges, Enfield villa
Mrs Louisa Pryor, Litfield villa
Capt. William Philips, Salisbury lodge
Mrs John Rickards, Trafalgar villa
Samuel Worsley, Arno's villa
William F. Trimnell, Walton lodge
Edward Taleur Salt, Cambria villa
Mrs Fanny Waters, Preston villa
Miss Fenton, St. John's villa
Mrs Evered, Brighton lodge
Canynge Street, Portwall Lane
Named after William Canynges, whose mansion once stood in nearby Redcliffe Street.
Christopher Roberts & Co. drysalters and oil merchants
Henry Purnell, vict, Globe & Foresters (pub) bristolslostpubs.eu/page159.html
The Globe & Foresters was on the corner of Portwall Lane and Canynge Street. The buildings on this corner were demolished around 1980 and replaced with a car showroom.
Cann's Court, Trenchard Street, St. Augustines
Canning Street, Pennywell Road
Canning Street was off Pennywell Road; if you were travelling North, then it was on the left just past the right fork with Goodhind Street.
Captain Carey's Lane, Old Market Street to Ropewalk
Captain Carey's Lane ran from Old Market to Redcross Street/Ellbroad Street and was lost when the alterations were made to construct the underpass and Old Market roundabout (Temple Way underpass). So it would have been not too far from Penn Street.
John Herbert Crates, plumber
John Thomas
John Shea, marine stores
Richard Crocker, mason
Joseph Nicholls
Thomas Robins, last maker
Russell J . Thompson, boot maker
William Cardwell
Stephen Allen, locksmith
William Tull, marine stores
Harry Bessell, mattress manufacturer
Thomas Brookes, soda water manufacturer
Carlisle Court, Thomas Street
Carlton Place, North St. Bedminster. near Hen & Chickens
Carlton Place, Victoria Street, Clifton
Carlton Place, Queen's Road, Richmond Park, to Park Place
William Hammond, Carlton villa
Mrs Mary Elizabeth Thackery, Carlton lodge
Mrs Mary Ann Spencer, lodging house
Joseph Spencer, florist
Mrs Elizabeth Tolkein
William Leaver, lodging house
Christopher Baugh
Rev. James Charles Stafford
The Misses Cripps
Counsell & Fewings, lodging house
Mrs Shepherd
Miss Haynes
Mrs and Miss Simpson
Miss Bush
William Wilberforce Jose, Weston villa
Myles A. Clark, Carlton house
William Francis de Viemes Kane, Buxton villa
George Brittan, Albion villa
Carlton Place, Pennywell Road
Carmarthen or Grays Court, Temple Street
Carolina Avenue, Carolina Row
Carolina Row, King Square to Gay Street
Lewis James Hill
?, Strange
William Burt, tailor, etc
H. Woolford
Charlotte Hart
George Denny
Mrs Eliza Partridge
John Bowden
Thomas Durant and Son
(Carolina Avenue)
Francis William Loft
Eliza Chandler
Edwin Tucker
Charles Crocker
Samuel Lewis, agent for European Insurance Company
Caroline Row, Highland Place, Durdham Down Blackboy
George Parsons
Henry Hughes, mason
Mrs tephens
Samuel Yeeles
Francis Pillinger
Jabez Bownce
Joshua Edwards
Mrs Tudball
Caroline Place, Hotwell Road, opposite Brunswick Place
Edwin Godfrey
Mrs Wilds
Thomas Evans
James Whitlow
James Stooke
George Davis, carpenter
Mrs MacCullook, lodging house
M. Nathan, lodging house
Joseph Randall, vict, Packet House (pub)
Packet House Tavern, Caroline Place
1839 – 42. William Capper / 1848 – 49. Samuel Cross / 1851. William Court / 1853 – 69. William Davies / 1871 – 87. Joseph Randall 1893. Agnes Randall / 1899. Priscilla Hamilton / 1901 – 09. Richard Thorn / 1914. Mrs. E. Ashford / 1921. Edward Jones.
William Seville
William Wookey, coal merchant
Edward Hunt
James Cavill
Caroline Place (Little), Hotwell Road
Carpenters Court, Horsefair
Carpenters Court, Haberfield Street, St. Philips
Cart Lane, Temple Street
Carters Buildings, Portland Street, Clifton
Castle Court, Quarry, Durdham Down
Castle Green, Narrow Wine Street to Castle Street
Harry Pethybridge, vict, Odd Fellows' Hall (pub)
Odd Fellows' Hall, Castle Green
1863 James Walker / 1866 Alfred Dyke / 1867 Alfred Osborne / 1868 to 1876 Henry Pethybridge / 1877 E. McGill 1879 – 86 Thomas Beavis / 1887 to 1888 Walter Burridge / 1889 Ellen Elizabeth Atkinson / 1891 Harrison Leggett 1892 – 1901 George Harris / 1904 – 06 George Derbey / 1909 Walter Hale on the 25th March 1888 the Odd Fellows' Hall was taken on a 14 year lease at a rent of £24 per annum by James Lockley, brewer of Lewin's Mead. The lease was one of 22 sold by James Lockley to the Bristol United Breweries Limited on the 25th March 1892 for the total sum of £11,000.
G. Smith, Sutton & Co. parcel o?ice
Mrs Gitson, dress maker
Carver, Jefferis & Co. hat manufacturers
James Smith & Sons, boot & shoe manufacturers
Hellier, Wills, & Hurndall, oil, color and varnish merchants
Bristol Dispensary, W. Pollard
Thomas Glass & Co., hat and cap manufacturers
Chapel
Castle Green Day School, Masters, Thomas David Hirons and James Smalley
Methodist New Connection Chapel
James Habgood, iron & metal merchant
Stabbins & Tyler, hat & cap manufacturers
Harding & Vowles, builders
John Charley
Ann Jenkins, lodging house
Robert Williams
Henry Gregory, working silver-smith and engine turner
Mary Spring, cooper
George Popham, ironmongers
?, Pearson, hat manufacturer
James Triggs, brush maker
Edward Kent, printer
Stephen West, glazier
George Hewlett
Joseph Brunt, vict, Friendship (pub)
Friendship, Castle Green
1853 – 60 Thomas Collings / 1863 – 67 Elizabeth Collings / 1868 – 71 Joseph Brunt / 1871 Elizabeth Collings / 1872 – 89 Matilda Brunt 1891 Edward Coome / 1892 – 96 Thomas Beavis / 1899 Sarah Beavis.
Mrs Culverwell, school
James Mizen
Mary Davis
Castle Green Sunday School
Glass and Betty, hatters
James Jones, printer
Castle Green Congregational Chapel
George Thomas Harris, working jeweller
Smith & Marsh, hat manufacturers
Charles Hoskens, boot maker
Llewellins & James, coppersmiths, engineers, etc
George Henry Webber, vict, Cat & Wheel (pub) bristolslostpubs.eu/page22.html
On the corner with Little Peter Street, standing in 1606 the Cat & Wheel was re-built in 1900, some bits & pieces were salvaged and are now housed in the Bristol City Museum. The later building was demolished in 1969 for a new museum complex which was never built. If standing today it would be in Castle Park just opposite the entrance to the Galleries car park in Newgate. The name above the door in this picture is W.T. Beavis which dates it to around the time of the inn's demolition.
Castle Green Terrace, Castle Green
Castle Mill Street, Merchant Street to Narrow Wine St
Emanuel Long
Edward Lockstone, chemist
Thomas Beavis, beer retailer
Thomas Barriball, leather merchant
William Somers, engraver, etc.
John Powell, butcher
J . Smith, confectioner and baker
Amelia Bayntun, refreshment house
William James, carpenter
Jane White, shopkeeper
Henry Dyer, cabinet maker
Henry G. Parnall & Sons, scale beam & weighing machine manufacturers
James & Son, boot and shoe makers
Walter Fisher, ticket-writer & printer
W. Starr, wardrobe dealer
Henry G. Bishop, vict, Castle and Mill (pub)
Robert Price, timber merchant
Castle Street, Peter Street to Old Market
John Williams, china warehouse
Henry Mundy, general ironmonger
Robert Pine, baker
John Thatcher, cabinet maker
S. C. Rossiter, linen draper
W. H. Vowles, brush & basket manufacturers
Daniel Underwood, grocer
Rd. Batten Edgeworth, ironmonger
James Rogers, boot maker
George Bragg, ironmonger
Payne & Thompson, wholesale haberdashers
Llewellins & James, brass founders
William Hadden, butcher
George Popham, dining rooms
Robert Hill, cutler
John Edwin Saunders, milliner, etc
R. King, baby linen warehouse
Edwin Parnall, sailmaker, etc
S. Wright, boot maker
Samuel Kendrick, fancy goods wholesale
J . Collins & Sons, tobacconists
Esau Callow, baker
William Edward Vaughan, dyer & scourer
Smith & Son, cabinet makers
J . Way, tobacconist
Frederick Snary, photographer
Henry Higgs, hatter
Alice Tilley, porter stores
Thomas H. Pengelly, printer
Isaacs Bros., Birmingham warehouse
William White, provision curer
William Ring & Co., grocers
A. Nicholls, Birmingham warehouse
John Saunders, clothier & outfitter
Albert H. Sage, hatter
John Howe, boot maker
A. Webb, hat manufacturer
Charles Clarke, confectioner
Mrs F. Maggs, milliner
John Wrentmore, bedding manufacturers
T. B. Reeves, beer retailer
Warren and Carle, file manufacturers
William Burton, baker
Henry Perry, pie house
Susan Davie, dairy .
Thomas H. W. Hall, confectioner
Thring & Co., grocers
Robert Salter, baker
Frederick Rees, vict, George and Dragon (pub)
George & Dragon Castle Street, corner of Queen Street
1753 John Woolfe / 1792 – 1800 Richard Cox / 1826 – 31 John Gifford / 1834. J. S. Rowe / 1837 M. Hazeldine / 1839 – 48 John Shave 1849 John Downing / 1851 Caroline Neale / 1853 – 55 William Kirk / 1856 – 60 William P. Tapp / 1863 Sarah Nichols / 1865 W. Miles 1866 William Griffiths / 1867 – 68 Richard Mallard / 1869 Frederick Clark / 1871 – 76 Frederick Rees / 1877 to 1885 Rueben Stephens 1886 – 1904 Michael Clune / 1906 James Russell / 1909 Charles Godfrey / 1914 Alfred Caines / 1917 Lily May Caines 1921 Thomas Quigley / 1925 – 28 George Tyler.
Fardon & Townshend, drysalters (Drysalters were dealers in a range of chemical products, including glue, varnish, dye and colourings)
Harry Lorymore Howell, soap manufacturers
Cowley A. Tyndall, ironmongers
A. Caird, druggist
William Hatch, boot maker
James Bessell & Sons, linen drapers
Lane & Co, wholesale stay makers
Charles Stevens, vict, Old Castle Tavern (pub) bristolslostpubs.eu/page47.html
The Old Castle was destroyed by bombs during the world war two, along with the rest of Castle Street and surrounding area. J W Lane, Castle Street were listed in 1870 they were trading as staymakers at the same address as the Old Castle Tavern.
Howes Bros, hat manufacturers
Prince, Son, & Holloway, undertakers
Priscilla Nott, boot maker
Thomas Gale, currrier
George Jones, hat manufacturer
Richard Fox Gee, pawnbroker
William Pingstone, basket maker
Alfred Brooks, dyer, cleaner, and furrier
John M. S. Tozer & Co. grocers
John Wilmot, carpenter
Samuel Stanmore, vict, Three Cups & Salmon (pub)
Three Cups & Salmon, Castle Street
1851 – 67 James Fisher / 1868 to 1883 Samuel Stanmore / 1885 – 89 John Clark / 1891 – 96 Arthur Chapman / 1897 Albert Sampson 1899 James Thomas / 1901 Jesse Thomas / 1904 James Attwood / 1906 William Rogers / 1909 Jessie Maxwell Taylor 1914 – 25 William Peters / 1928 – 35 Samuel Warren / 1937 – 38 Annie Warren.
James W. Pascoe, japanner, & metalworking
Thomas Lansdown Day, china dealer
Joseph Michael, pawnbroker
William Henry Cowlin, boot maker
Collins and Champion, cork cutters
Charles Jackson, boot maker
Schweppe & Co., soda water manufacturers
Keeping & Co. tobacconists
Thomas Stroud, plumber
William Hall, grocer
George William Skinner, cap manufacturers
George D. Whereat, ironmonger
Thomas Tanner, ale stores
George Edward Fear, furrier
Stopford & Co. hat manufacturers, Castle house
J . Skeates, saddler
William Skeates, jeweller
Charles Irvine, boot warehouse
Gordon & Co. clothiers & outfitters
Printers Library
Particular Baptist Meeting House
Naish & Co., mfrs. patent cotton
Lugg & Co. wholesale boot manufacturers
Webb, Fardon & Co, druggists
Charles Thomas Ovens, haberdasher
John Cory Withers, hatter
Coalbrookdale Co, iron casting warehouse
T. Harris, gasfitter
Price & Eastman, wire blind maker
H. Goldsborough, embroidery maker
William Edward Goldsbrough, tobacconist
G. Garlick, hatter
W. Jennings, draper
Castle Street (Lower), bottom of Castle Street to Broad Weir
1859 Henry Blackburn, 4 Lower Castle Street, Bristol
www.flickr.com/photos/brizzlebornandbred/8394767196/
Cate's Cottages, Black Horse Lane, Clifton
Cathay, Colston Parade, Redcliff Hill to Langton Street
Being close to the river this street was possibley named in connection with trading routes to China. The once lawless and notorious district of Cathay where the Pirate Blackbeard was born and bred.
Samuel Webber, grocer
Thomas Osmond Mills, baker
William Kenvin, tailor and draper
Sarah Eve, goldsmith and jeweller
Mrs Rachel Morgan
William Coumbe
Robert Gast
Edward and James Charles, tailors, etc.
Charles Thomas
William Winter, lodging house
Henry Carey, relieving officer, registrar of births and deaths
Henry Hunt, vict, Rising Sun (pub)
Rising Sun, Cathay, Redcliff
1837 – 39. Benjamin Williams / 1840 to 1848. Sarah Williams / 1849 to 1854. George Roe / 1855. George Woolcott 1858. William Britton / 1860 – 69. Charlotte Warburton / 1871 – 77. Henry Hunt / 1878 to 1891. Joseph Hawkins 1892 – 99. Alfred Hussey / 1901. Rose Hussey / 1904 to 1922. William Spratt / 1923 to 1935. Mary Spratt 1935 to 1937. Catherine Spratt / 1938 to late 40's. Ada Drake / 1950 – 53. Thomas Sayers part of an email sent in by Mike Meechem: Catherine Spratt followed Mary Spratt in 1935 until 1937 when my grandfather sold the pub to the Drake Family. Mrs Ada Drake was the publican until the late 1940's. It suffered bomb damage during the war and a fire in the roof. Owing to a lack of water at the time attempts were made to control the fire with beer!!!
Charles Good, commission agent
James Jeffery
William L. Harris, marble and stone sculptor
William Banner, builder & undertaker
William W. Smith, accountant
Thomas Spurl, ship rigger
Elizabeth J . Tucker, school
Daniel Richards
William Edward Coombs, carpenter
Charles Grimsbey
Benjamin Harding, grocer, etc.
William Dyment, boot maker
John Lewis
Elizabeth Jenkins, vict, Kings Head (pub) bristolslostpubs.eu/page163.html On the corner with Somerset Place the King's Head was demolished in 1959 when the area was redeveloped.
(Somerset Place)
Walter Sellick
John Holder, railway guard
Thomas Coates, bookbinder
Samuel Farley, pork butcher
Henry Page, greengrocer
Mary Hardwidge, shopkeeper
William Kinnersly, tea dealer & grocer
Martha Edwards, news-agent
James Low, baker
William Tuck, butcher
Richard Lewis, Cathay brewery
Henry Brice, butcher
Edward Robertson, carpenter & grocer
William Wreford Palmer
Charles Usher, shopkeeper
Joseph Thatcher
Benjamin Smith, vict, Ship (pub)
Ship Inn, Cathay
1775. William Wyatt / 1792. William Hughes / 1794. Edward Carter / 1800 – 06. Thomas Smith / 1816 – 23. John Harford 1826 – 34. William Gammon / 1837 – 40. John Hathaway / 1841 – 42. William Brown / 1844 – 53. George Godfrey 1854 to 1891. Benjamin Smith / 1892 – 99. Thomas Hookway Gange / 1901. Henry Hulbert / 1904 – 09. Walter Pomphrey 1914. Henry Walters / 1917 – 21. Thomas Thomas / 1925. Alfred Tapper / 1928. Joseph Glennell / 1931. Edward Sanders 1935 – 44. George Sixsmith / 1950 – 53. Lilian Sixsmith / 1960 – 62.
Dennis Roberts.
Cathay Parade, Cathay, Redcliff
Robert Atkins, accountant
Catherine Mead Row, Catherine Mead Street to Dean Lane
The following extracts from the 'Homes of the Bristol Poor' – published by the Bristol Mercury in 1884 – are first hand accounts of conditions prevailing in the mean streets of the time.
The great army of the poor in Catherine Mead Street, has increased, and none but those who are constantly in their homes can have any conception of the hopeless lot of many with empty rooms, blank firesides, bare cupboards and hungry children, whose bodies are scarcely covered by the few rags drawn over them.
There is a wholesome horror of the workhouse.
Catherine Place, Cheltenham Road, Stokes Croft
Catherine Street, Richmond Road to Church St, St Philip's
H. Wright. beer retailer
Hannah Luff, beer retailer
Ellen Bryant, rope and twine maker
A. Lombardini, beer retailer
George Davis, grocer
Catherine Mead St. East St. to Dean Lane, Bedminster
Chas. Selway, baker
William Sandy, tobacconist
William Giles, grocer
Harry Gunning, tailor and draper
Rebecca Rice, vict, Catherine House (pub)
Cattle Market Road
The cattle market was established here in 1830. In 1874 the Great Western and Midland Railways boards reconstructed it.
Cave Street, Portland Square to Wilder Street
Stephen Cave, resided in Brunswick Square.
John Cave & Co. colour manufacturers were listed in 1793.
Samuel Platnaner
Thomas Jewell
Thomas Gibbs
S. Hodges
Edwin P. Green
Mrs Hawkins
Alfred Munro
Portland Training Academy, Thomas Bibbing
Alfred Sharland
Mrs Evans
John Vaughan
Benjamin T. Gough
Hemy Merry
William B. Lanham
Mary Wensley
John Thomas Chase
John P. Donovan