A few nice aluminum prototype machining pictures I found:
Steven F. Udvar-Hazy Center: Boeing B-29 Superfortress "Enola Gay" (nose view)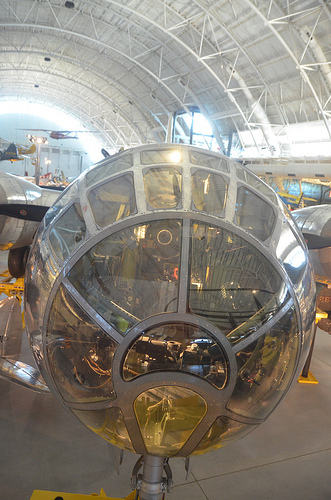 Image by Chris Devers
Quoting Smithsonian National Air and Space Museum | Boeing B-29 Superfortress &quotEnola Gay&quot:
Boeing's B-29 Superfortress was the most sophisticated propeller-driven bomber of World War II and the 1st bomber to house its crew in pressurized compartments. Though created to fight in the European theater, the B-29 identified its niche on the other side of the globe. In the Pacific, B-29s delivered a range of aerial weapons: traditional bombs, incendiary bombs, mines, and two nuclear weapons.
On August six, 1945, this Martin-built B-29-45-MO dropped the first atomic weapon used in combat on Hiroshima, Japan. Three days later, Bockscar (on display at the U.S. Air Force Museum close to Dayton, Ohio) dropped a second atomic bomb on Nagasaki, Japan. Enola Gay flew as the advance weather reconnaissance aircraft that day. A third B-29, The Fantastic Artiste, flew as an observation aircraft on both missions.
Transferred from the United States Air Force.
Manufacturer:
Boeing Aircraft Co.
Martin Co., Omaha, Nebr.
Date:
1945
Country of Origin:
United States of America
Dimensions:
All round: 900 x 3020cm, 32580kg, 4300cm (29ft 6 five/16in. x 99ft 1in., 71825.9lb., 141ft 15/16in.)
Components:
Polished general aluminum finish
Physical Description:
4-engine heavy bomber with semi-monoqoque fuselage and higher-aspect ratio wings. Polished aluminum finish all round, common late-Globe War II Army Air Forces insignia on wings and aft fuselage and serial number on vertical fin 509th Composite Group markings painted in black &quotEnola Gay&quot in black, block letters on reduce left nose.
Steven F. Udvar-Hazy Center: Aichi M6A1 Seiran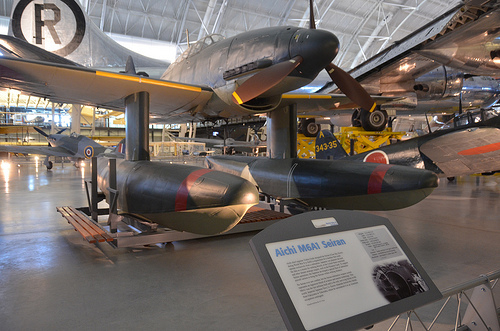 Image by Chris Devers
Quoting Smithsonian National Air and Space Museum | Aichi M6A1 Seiran (Clear Sky Storm):
Aichi chief engineer, Toshio Ozaki, made the M6A1 Seiran to fulfill the requirement for a bomber that could operate exclusively from a submarine. Japanese war planners devised the notion as a indicates for striking straight at the United States mainland and other essential strategic targets, like the Panama Canal, that lay thousands of kilometers from Japan. To help Seiran operations, the Japanese developed a fleet of submarine aircraft carriers to bring the aircraft within striking distance. No Seiran ever saw combat, but the Seiran/submarine weapons method represents an ingenious blend of aviation and marine technology.
This M6A1 was the final airframe built (serial quantity 28) and the only surviving instance of the Seiran in the world. Imperial Japanese Navy Lt. Kazuo Akatsuka ferried this Seiran from Fukuyama to Yokosuka where he surrendered it to an American occupation contingent.
Transferred from the United States Navy.
Manufacturer:
Aichi Aircraft Organization (Aichi Kokuki KK)
Date:
1945
Nation of Origin:
Japan
Dimensions:
General: 460 x 1160cm, 3310kg, 1230cm (15ft 1 1/8in. x 38ft 11/16in., 7297.2lb., 40ft 4 1/4in.)
Physical Description:
Wings rotated back, folded back to lie flat against the fuselage. two/three of every single side of the horizontal stabilizer also folded down, likewise the tip of the vertical stabilizer.
Steven F. Udvar-Hazy Center: Photomontage of Overview of the south hangar, which includes B-29 "Enola Gay" and Concorde



Image by Chris Devers