A handful of good prototype machine shop pictures I found:
Two rotary snow plows parked at Roseville Ca.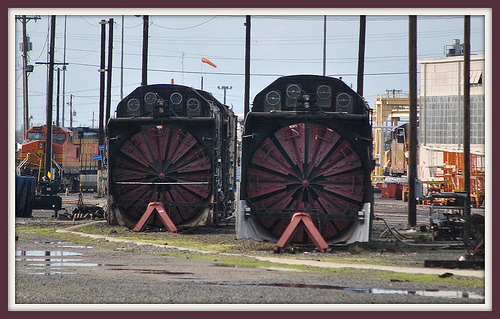 Image by Loco Steve
A Short History of the Rotary Snowplow
The very first rotary plow was designed in 1869 by Toronto dentist J.W. Elliot. His design and style, similar to but much more primitive than the later Leslie variety, was by no means built. Several other early plow concepts also died a equivalent death. Some had been constructed in prototype type and scrapped, whilst others in no way were constructed at all.. These incorporated the Hawley plow, the Marshall plow, the Blake Machine Plow and the Kryger steam snow shovel.
The first profitable rotary plow was created by Canadian Orange Jull. He had the plow built by the Leslie Brothers, owners of a machine shop, and tested it in the winter of 1883-84. The Leslies' soon purchased the manufacturing rights to the plow and went into organization creating 'Leslie type' rotaries. This is the type of plow most individuals believe of when you say 'rotary.' It has 1 huge circular plow blade rotating on a shaft parallel to the tracks.
Among 1885 and 1903 the Leslies had 62 plows (plus 2 for export) built by several locomotive functions. They then sold the rights to the plows to ALCo. Even so, the Leslies' company exists to this day. From 1905 to 1937 ALCo constructed 67 plows (plus four for export). Two homebuilt, 42 inch gauge Leslie plows were constructed by Reid Newfoundland. Lima-Hamilton built the final four commercially developed steam rotaries (and the final industrial Leslie types) in 1949-50, below license from ALCo.
Five homebuilt Leslie varieties (four diesel, 1 electric) had been constructed in between 1950 and 1971. The a single plow constructed in 1971, by Union Pacific, was the last Leslie kind built. More than the years Leslies had been built in US Standard Gauge, three foot gauge, and 42 inch gauge, and possibly other gauges for export. Of the 146 recognized Leslie kind plows, there are 41 identified survivors, and five probable/unconfirmed survivors. I took this photo from the California Zephyr December 2010
Check OUT THIS Awesome VIDEO
ACL Columbia Terminal Sheet three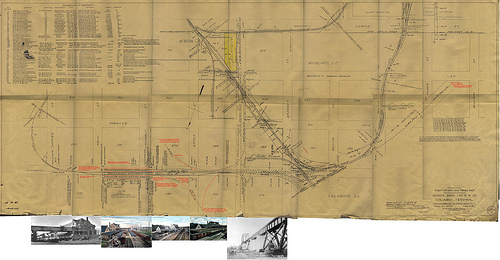 Image by michaeljy
I was hoping that it showed more detail of the Southern's tracks than it does. If any individual can provide extra information, it would be appreciated.
Update. My notation on the scan that, &quotApparently ACL showed only these tracks which they utilised.&quot I believe was a wrong very first impression. I now consider that the original 1917 map has been updated, and the tracks shown in BLACK are the station tracks AS THEY EXISTED IN THE 1960s. What threw me off was that they did not update the umbrella sheds. But, whilst drawing in the dotted red lines, it dawned on me that the tracks shown are as I keep in mind them becoming as a child catching trains and hanging out there in the 1960s.
By 1960, the Assembly Street two-lane overpass had been removed and the street widened to four lanes at ground level. All via station tracks except Tracks 3 and four had been removed east of Assembly Street. The shortened portion of Track five was retained west of Assembly for use in switching vehicles to/from trains, whilst Tracks 6 and 7 became stub-ended at Assembly and had been used for storing and servicing cars laying more than at Columbia. What remains of Tracks five, six, and 7 these days have been further shortened and concrete ramps constructed for unloading MofW equipment and the Circus Train when it comes to town. All umbrella sheds except the 1 amongst Tracks 3 and four were torn down, as was the portion of the surviving a single that had formerly extended below the Assembly Street Bridge. A &quotnew&quot umbrella shed, created out of materials from the dismantled ones, was constructed between Tracks 3 and 4 on the west side of Assembly Street extending all the way to the Gates Street &quotcrossing&quot (which by no means was open as a street by means of there), and from then on, all trains stopped to the WEST of the Assembly Street crossing, so as not to block either Assembly or Primary Streets although in the station. Passengers had to walk or drive down to where the trains would be.
Trains 31 and 32, the Augusta Specific, ran by means of on Track 4. Columbia cars were added to No. 32 and switched out of No. 31, by the &quotStation Job&quot switcher, making use of the truncated Track five as a pickup and set off track. (You can see a photo of No. 32's engine, as it often stopped on Track 4 at Assembly Street, here: www.flickr.com/images/michaeljy/3571226187 ).
Trains 17 and 18, the Columbia-Greenville regional, arrived and departed in the course of the night, and presumably also employed Track 4, getting made up and put away to/from storage tracks 6 and 7 by the Station Switcher.
Trains 27 and 28, the Carolina Particular, following its Charleston leg was discontinued in 1962, originated and terminated in Columbia, arriving and departing from Track 3. No. 28 was due to arrive at 4:45 p.m., and would stop on Track 3 quick of Assembly Street, and at some point for the duration of the evening would be wyed (turned) by the Station Job and returned to the very same spot, for departure as No. 27 the next day at 11:20 a.m. Meanwhile, No. 31 would have run via about 6 a.m., and with all its switching and No. 27's gear sitting on Track three, old Union Station need to have looked like really a busy place once more for a half hour or so.
By union agreement, the Station Job Switcher crew went on and off duty at Union Station. In the mid- to late 1960s, the old employee locker and washroom in the basement of the constructing that is now California Dreaming was shut down, and a tiny new brick creating was built just west of Assembly Street, subsequent to Track 5, to serve as a crew facility. Extended following all passenger service ended around 1970, the Station Job continued to &quottie up&quot here, in Track 5. When not switching passenger trains, on first trick (daytime) it switched industries in the Blanding Street-Laurel Street region, and on third trick (&quotgraveyard&quot shift) it switched industries in the area now identified as &quotThe Vista,&quot behind Adluh Flour, and the Freight Depot at 800 Gervais Street.
The Station Job is now, like the passenger trains it after switched, history, but I feel its little brick crew area nevertheless stands, on Assembly Street near The Sonic Drive-In Restaurant.
Steven F. Udvar-Hazy Center: primary hall panorama (P-40 et al)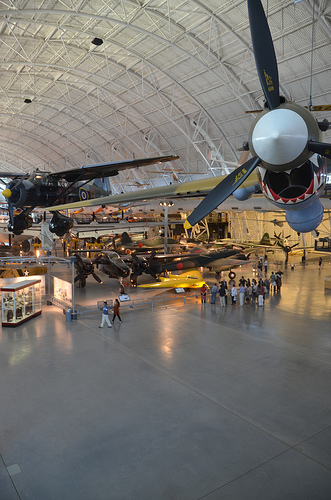 Image by Chris Devers
See more pictures of this, and the Wikipedia post.
Details, quoting from Smithsonian National Air and Space Museum | Curtiss P-40E Warhawk (Kittyhawk IA):
Whether known as the Warhawk, Tomahawk, or Kittyhawk, the Curtiss P-40 proved to be a productive, versatile fighter in the course of the very first half of Globe War II. The shark-mouthed Tomahawks that Gen. Claire Chennault's &quotFlying Tigers&quot flew in China against the Japanese remain amongst the most popular airplanes of the war. P-40E pilot Lt. Boyd D. Wagner became the initial American ace of Planet War II when he shot down six Japanese aircraft in the Philippines in mid-December 1941.
Curtiss-Wright built this airplane as Model 87-A3 and delivered it to Canada as a Kittyhawk I in 1941. It served until 1946 in No. 111 Squadron, Royal Canadian Air Force. U.S. Air Force personnel at Andrews Air Force Base restored it in 1975 to represent an aircraft of the 75th Fighter Squadron, 23rd Fighter Group, 14th Air Force.
Donated by the Exchange Club in Memory of Kellis Forbes.
Manufacturer:
Curtiss Aircraft Company
Date:
1939
Country of Origin:
United States of America
Dimensions:
General: 330 x 970cm, 2686kg, 1140cm (10ft 9 15/16in. x 31ft 9 7/8in., 5921.6lb., 37ft 4 13/16in.)
Materials:
All-metal, semi-monocoque
Physical Description:
Single engine, single seat, fighter aircraft.